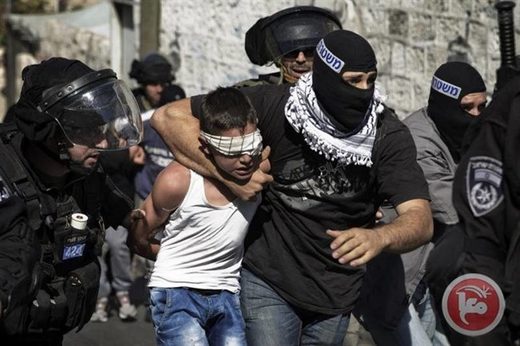 Over the course of the month of January alone, at least 64 Palestinian minors were detained and incarcerated in Israel's Ofer detention center, while
the minors were imposed with a collective 52,000 shekels (approximately $14,000) in fines,
the Palestinian Committee of Prisoners' Affairs said in a statement Monday.
The committee said that eight of the minors were detained
after Israeli forces shot them.
Of the minors detained in January and held in Ofer, 28 were detained from their homes, 27 from the street, six at Israeli military checkpoints, and two after they were summoned for interrogation.
One 16-year-old detainee was transferred to administrative detention, Israel's widely condemned policy of internment without trial or charge under undisclosed evidence.
The committee said that 28 of the underage Palestinians were handed actual prison sentences ranging between one month and 12 months, while the remaining were still being held and interrogated. Ofer detention center is one of the most common sites used by Israel for the interrogation of Palestinian children.
Last October, the committee reported that
the "overwhelming majority" of Palestinian minors held in Israel's Megiddo and Ofer prisons
are tortured
during their detention and interrogation.
Rights groups have also
widely documented
the mistreatment, abuse, and torture of Palestinian minors in detention, and the harsh interrogation practices used to force their confessions.
Meanwhile, Palestinian NGO
BADIL warned
last year of an increasing trend of Israeli forces shooting Palestinian youth in a deliberate attempt to leave them
crippled for life.