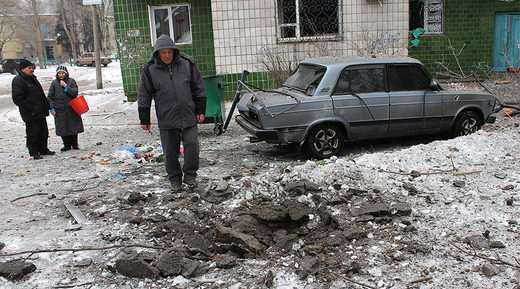 The new U.S. ambassador to the United Nations, Nikki Haley, has expressed "strong condemnation of Russia's actions" in eastern Ukraine and warned that Ukraine-related sanctions against Russia will not be lifted until Crimea is returned to Kyiv.
"Crimea is a part of Ukraine. Our Crimea-related sanctions will remain in place until Russia returns control of the peninsula to Ukraine," she said on February 2 in her first public remarks before the Security Council since being sworn into office.
"Eastern Ukraine, of course, is not the only part of the country suffering because of Russia's aggressive actions. The United States continues to condemn and call for an immediate end to the Russian occupation of Crimea," Haley said.
The new American envoy said it was "unfortunate" that she had to condemn Russia in her first appearance before the council.
"We do want to better our relations with Russia," she said, but "the dire situation in eastern Ukraine is one that demands clear and strong condemnation of Russian actions."
Russia and Ukraine have traded blame for the increase in violence. Russia's UN ambassador said observers have blamed the escalation on Ukrainian forces and he accused Ukraine of "desperately, frantically" trying to achieve a military victory.
Comment:
'Not a single tank'? Kiev rep draws own picture of E. Ukraine town despite OSCE, BBC evidence
A Ukrainian official has denied that Kiev has tanks in the eastern Ukrainian community of Avdeevka as the OSCE claims the opposite and a BBC reporter provides video of the hardware there.

With tensions in eastern Ukraine escalating over recent days, an official Kiev representative has denied the army sent tanks into the town of Avdeevka, close to the delineation line between the government troops and rebel forces.

"I've been in Avdeevka the whole day today [Thursday]. I have not seen a single tank, I saw one police CRV [combat reconnaissance vehicle] with large letters on it clearly saying 'Police'," Leonid Matyuhin, official representative of the press center for the Ukrainian military in Donbass told RIA Novosti.

Yet earlier, BBC reporter Tom Barridge released a video claiming it showed Ukrainian tanks in Avdeevka. Barridge said Kiev "troops and tanks" were apparently "ready for action."

Matyuhin countered that Barridg's video should be verified first.
Churkin laying out the facts
Vitaly Churkin, echoing comments by Russian President Vladimir Putin earlier in the day, told the UN council late on February 2 that Kyiv needs money which it "can swindle out of the European Union, certain European countries, and from the United States and from international financial institutions by pretending to be the victims of aggression."
"The essence of those events is quite clear: Kiev is trying to use the armed clashes that it provoked as a pretext for a complete rejection of the February 12, 2015, Minsk agreements, sealed by the UN Security Council resolution 2202," Churkin said in Russian, TASS reports.
He called for a cease-fire and return to implementation of the Minsk peace agreement.
The diplomat went on to list public remarks made by the Ukrainian officials over recent days which clearly proved that it was indeed Kiev that has escalated the situation there. He also cited OSCE reports and surveillance data which places the blame squarely on the Ukrainian government and not the rebel forces.
Churkin also noted the correlation between Petro Poroshenko's trips abroad and the escalation of violence in the Donbass.
"Any serious intensification of hostilities in Donbass miraculously coincides with foreign visits of the Ukrainian leadership. Apparently, this is how Kiev expects to keep the crisis that it had provoked on the international agenda," Churkin said.
"And, of course, the Ukrainian leadership needs money today, that can easily wheedle out of the European Union, some European nations, the United States and international financial institutions when they pretend to be a victim of 'aggression'," the diplomat added.
Instead of "searching sensible compromises" to end the conflict, the envoy stressed, Kiev is "pressing for a military solution."
Churkin called for an immediate ceasefire and swift de-escalation of the situation "to prevent disaster and to return the situation to the political track."
"We trust that those with common sense within Ukraine itself and also all those keen to settle issues of this kind through political means will not allow the situation in southeastern Ukraine to develop along the worse-case scenario," Churkin said, instead advising Kiev to focus their efforts on immediately implementing the Minsk peace agreements.
UK and McCain join the anti-Russian chorus
But Churkin's speech did not impress the British Ambassador to the UN, Matthew Rycroft, who accused the Russian side of misinforming the council.
"We frequently hear from the Russian government, as we did today, that all the problems in eastern Ukraine are the consequence of actions by the Ukrainian government. This is simply not the case. It is an inversion of reality."
He later tweeted, "Great #UNSC debut speech by @NikkiHaley today. Fully agree that sanctions must remain until #Russia returns control of #Crimea to #Ukraine."
But U.S. Senator John McCain said Russia is testing President Donald Trump by escalating the violence in Ukraine. He dismissed Putin's accusations that Kyiv is fomenting the latest fighting in an effort to gain support from the new U.S. administration.
McCain, a senior Republican senator from Arizona and a regular critic of Trump as well as Russia, sent a letter to the president in which he urged him to provide lethal aid to Kyiv.
"That this surge of attacks began the day after [Putin] talked with you by phone is a clear indication that Vladimir Putin is moving quickly to test you as commander in chief. America's response will have lasting consequences," McCain said in the letter released by his office.

Putin's response
Putin, speaking in Budapest after a meeting with Hungarian Prime Minister Viktor Orban, claimed "the Ukrainian leadership needs money, and the best way to get the EU, the U.S., and international organizations to pay is by posing as a victim of aggression."
Porky acting like a victim
Ukrainian President Petro Poroshenko issued a statement urging the international community to "more actively put pressure on Russia in order to end the shelling."
Ukraine has expressed concerns that Trump could roll back some sanctions imposed on Russia after its 2014 annexation of Ukraine's Crimea region and in retaliation for Moscow's military, economic, and political support for separatist militants in eastern Ukraine.
Trump has repeatedly expressed hope for improved relations with Moscow.
In Brussels, EU President Donald Tusk urged Russia to use its influence to "disengage the Russia-backed separatists" and to restore a cease-fire.
The Ukrainian military reported two soldiers killed overnight on February 2 and 10 wounded in shelling in the government-held town of Avdiyivka, just north of the separatist stronghold of Donetsk. The separatists said one of their fighters was killed.
"Moscow was putting Avdiyivka on the brink of a humanitarian catastrophe," Poroshenko's statement said.