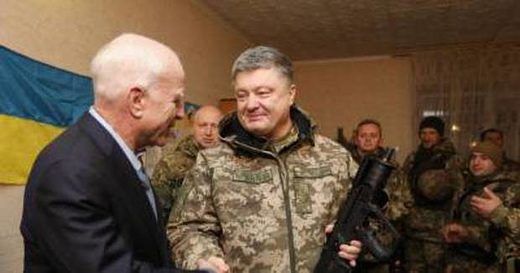 We reported that east Ukraine saw heavy fighting in late January as government troops went on an offensive using special infiltration tactics.
However, weeks ago
we also reported
that US Senators, and famous warmongers John McCain and Lindsey Graham spent their end of year holidays touring countries on Russia's doorstep which neocons have long billed as potential flashpoints, Georgia, the Baltic countries, and Ukraine.
In Ukraine McCain and Graham actually visited Ukraine's front line troops and spent the night with them alongside Ukraine's president Poroshenko in their barracks.
This is
how they spoke
during the occasion, Senator Lindsey Graham:
"I admire the fact that you will fight for your homeland."

"Your fight is our fight, 2017 will be the year of offense."
"All of us will go back to Washington and we will push the case against Russia. Enough of a Russian aggression. It is time for them to pay a heavier price."

"Our fight is not with the Russian people but with Putin. Our promise to you is to take your cause to Washington, inform the American people of your bravery and make the case against Putin to the world."
John McCain:
"I believe you will win. I am convinced you will win and we will do everything we can to provide you with what you need to win. We have succeeded not because of equipment but because of your courage.

So I thank you and the world is watching and the world is watching because we cannot allow Vladimir Putin to succeed here because if he succeeds here, he will succeed in other countries."
Now I am not saying the reason Ukrainians went on an offensive is because two Americans egged them on, but it is indeed clear that the two very high profile American Senators went to a foreign country and encouraged them to restart their frozen civil war. Despicable!