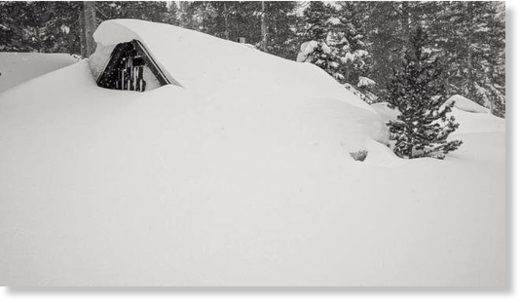 After a weekend storm that dumped nearly 6 feet of fresh powder at Mammoth Mountain, the resort announced today that this is the snowiest month ever at Mammoth — and that's with a week remaining in January.

Since New Year's Day, 241 inches of new snow has fallen at Main Lodge
, where the records are kept. That easily surpasses the previous record of 209 inches, which was tallied in December 2010.
The latest storm brought the season total to 344 inches,
a welcome turn-around from recent drier-than-normal winters. While last year brought 354 inches of fresh powder, according to the website, On the Snow, the most Mammoth received any winter from 2012-15 was 233 inches.
"All the snow this month can get a little tiresome, but I want to find the guy who did the right snow dance and pay him a lot and package him somehow," said Shields Richardson, the mayor of Mammoth Lakes who also owns the Side Door Cafe and Mammoth Village Properties with his wife, Kathy.
This afternoon when he was reached on the phone, Richardson was returning to Mammoth from Bishop via U.S. Highway 395, which had been shut down between the two communities. The north-south roadway had just re-opened, according to the California Highway Patrol's Bishop office.
Chains or snow tires were still being required on many roads throughout the Eastern Sierra, an area that received as much as three feet of snow during the 24 hours ending this morning, according to the National Weather Service.
"When you have that much snow in a short period, it taxes our services, but they're doing a Herculean effort to remove it and keep the roads open," said Richardson, referring to the work being done in Mammoth Lakes.
As of this afternoon, Mammoth Mountain resort was reporting that six lifts were operating, and crews were working to open more terrain.