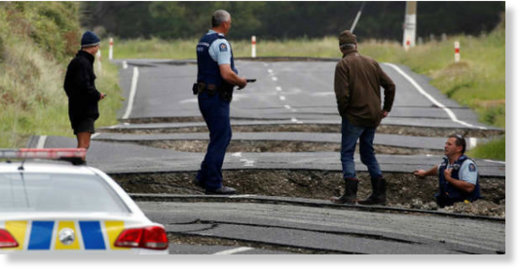 The year 2017 has not been lucky enough for Central New Zealand as the country has been hammered by two earthquakes within a week and today as well, another quake shivered Central New Zealand.
A 5.1 magnitude quake struck Central New Zealand near Seddon this afternoon. As per Geo Net, the epicenter of the quake was 15 km southeast of Seddon and was
11 km under the earth's crust.
The quake shivered the country struck at around 1.19 pm (local timings) this afternoon. The shake was felt as distant as Auckland, however, it was the strongest in Blenheim and Wellington. Other remote areas where the tremors were felt include Hamilton, Taranaki, Westport and Richmond.
The brunt of the quake was felt by more than 5,000 people across the lower North Island including the complete Southern Island. In fact, more than 3,000 people felt the tremors within five minutes of the quake.
As of now, no incidents of loss to human life and property has been reported. No tsunami alerts were raised too.
It was just a week back when the same region was lashed by a magnitude 5.3 earthquake and another magnitude 5.5 the week before.
Hence, the country and its people have been dealing with hundreds of aftershocks in the wake of the 7.8 magnitude quake that struck in November.