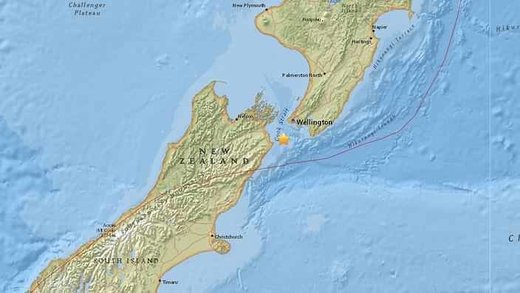 A magnitude 5.5 earthquake has struck central New Zealand on Thursday afternoon.
According to
RNZ
, the strong quake was centered around 35km east of Seddon, a town on the northern tip of New Zealand's south island.
The quake, which hit at 3.34pm, had a depth of 15km and was followed soon after by a 4.7 aftershock.
GeoNet rated the intensity of the earthquake as
'severe'
.
Shaking was felt in Wellington more than 150km away.
The island has been hit by several aftershocks following the devastating 7.8-magnitude quake which struck in November.
The
New Zealand Herald
reported that no injuries or damage had been reported to the Wellington Free Ambulance or St John central communications.
Darryn McKenzie, owner of Seddon's Awatere Accommodation, told the publication the region was well accustomed to deal with quakes since a major one struck in 2013.
"Anything that was gonna fall down, fell down in 2013. So we are on the back-end of repairing the damage that was done in 2013," he said.
"When we repair things down here now, we repair them knowing there could be an earthquake next week.
"For example my microwaves are screwed to the bench so they can't come off."
Ian Henderson, St John spokesman, urged the public to check on their loved ones, saying: "This entire part of the country is still an active earthquake zone so we encourage people to stay in touch with friends and relatives especially those who you know are alone, frail or ill."