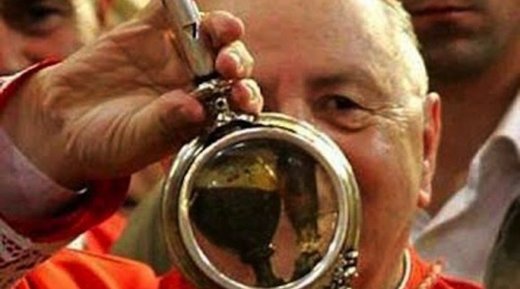 One of the most famous recurring miracles — even if one not quite sanctioned by the Catholic Church — is the liquefaction of the dried blood of San Gennaro, or St. Januarius, a bishop of Naples martyred around 305 A.D. and the city's patron saint. Starting in 1389, the vial of San Gennaro's blood
typically turns liquid three times a year
: on the Saturday before the first Sunday of May; on his saint's feast day, Sept. 19; and on Dec. 16, the day Mt. Vesuvius erupted in 1631.
The blood liquefied on Sept. 19 this year,
but not on Dec. 16.
"In local lore, the failure of the blood to liquefy
signals war, famine, disease, or other disaster
,"
Catholic News Agency reports
.
The relic failed to liquefy in September 1939, when World War II broke out; during a cholera outbreak in Naples in 1973; and in 1980, the year of a deadly earthquake,
Italy's La Stampa newspaper says
. But Msgr. Vincenzo De Gregorio, the abbott of the Chapel of the Treasure of San Gennaro, took a philosophical view.
"We must not think of disasters and calamities," he counseled, according to the ANSA news agency. "We are men of faith and we must pray."