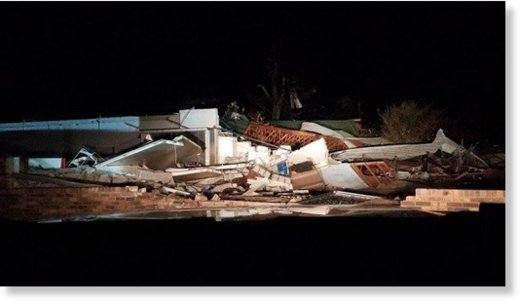 A tornado has killed at least three people in the US state of Alabama and injured many more, including four children critically hurt when their 24 hour daycare centre was destroyed.
A line of severe storms had moved across the South overnight, authorities said. Lightning set homes alight, large hailstones battered a wide area and thousands were without power.

The three people who died were all in a mobile home in the northeastern Alabama community of Rosalie,
Jackson County Chief Deputy Rocky Harnen said early Wednesday (local time).
House damaged in Underwood Mountain area from severe storms pic.twitter.com/OPeyLnYhQ6
— Colbert EMA (@colbertema) November 30, 2016
Another person in the home was critically injured, Harnen said
Harnen also said there were a number of other injuries and estimated that 16 to 20 structures in the county have been destroyed.
The National Weather Service fielded 27 reports of tornados as the storm system, packing hail and heavy downpours, moved through eastern Texas, northern Mississippi and Alabama and into southeast Tennessee late on Tuesday and early Wednesday morning.
Rosalie Damage! @spann pic.twitter.com/AffbRxWkTs
— Terri Monroe (@TerriMonroe11) November 30, 2016
Sad news from DeKalb County.... pic.twitter.com/kPG1H8noQB
— James Spann (@spann) November 30, 2016
Main concern for the next few hours... flash flooding, straight line winds. Only an outside risk of a tornado. Line of storms dropping south pic.twitter.com/ekYWeRHL5L
— James Spann (@spann) November 30, 2016
Source: AP