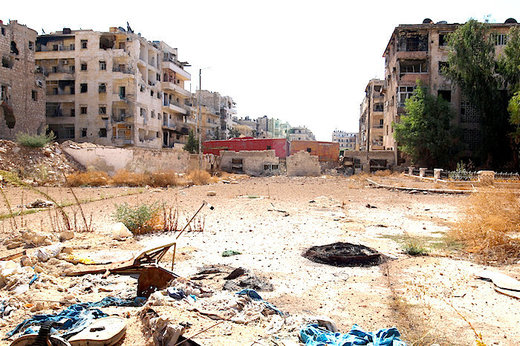 Khaled Kadura, a small business owner, and his family were forced to flee eastern Aleppo
, leaving everything they had behind, because
Ahrar al-Sham rebels turned their life into a "tragedy,"
terrorizing those who could not fight back and spreading lies about Damascus, he told Sputnik.
This is his story:
For Khaled, who hired out furniture for weddings, and other Aleppo residents
the war came as a surprise.
No one could have said that their lives would change so dramatically in an instant, but this is exactly what happened on July 26, 2012.
"Everything was peaceful when we fell asleep on the fifth day of Ramadan in 2012. When we woke up, the rebels were there. Initially they took control of the police station, killing law enforcement officers and imposed a curfew," he recalled. "Then they started terrorizing those who could not fight back."
The rebels showered locals with promises of a better life and threats of what Damascus and its forces would do to them, but those were empty words.
The militants turned schools and hospitals into command centers.
As a result, Khaled's eight-year-old son and others children could no longer go to school.
An Ahrar al-Sham mufti took over a local mosque.
"He told us that those affiliated with the regime are infidels, that they will kill us and force us to shave our beards off," Khaled recalled.
Khaled described living in rebel-held areas of Aleppo, a city that was once the financial capital of the country, as "a true tragedy" comprised of
shelling, destruction and permanent shortage of food, fuel and medical supplies.
Finally, Khaled decided to flee.
"I was afraid to leave everything I owned behind and flee penniless, but I have diabetes and I could no longer find medicine. I decided to take my family with me because they were also suffering from illnesses caused by the lack of food, water and medicine," he said.
A local member of the
Russian Centre for reconciliation of opposing sides
in Syria contacted Khaled. Ahead was a perilous journey. On its way out of Bustan al-Qasr sometimes referred to as the
"death corridor,"
the family had to
avoid mines
set up by the rebels and
militant sniper fire.
As soon as the family reached safety, tragic news came from home.
Having learned of Khaled's escape, Ahrar al-Sham fighters detained his friends and four brothers.
"They sentenced one of them, Hamza, to death. He was 27 years old. He had a wife and three children. The militants announced this through their media, but I don't know whether they've killed him or not," he said.
In addition, the militants
seized Khaled's house and forced his daughter and her baby out.
This fear mongering is clearly
a message to others
who contemplate leaving rebel-held areas of eastern Aleppo.
It turned out that
what Ahrar al-Sham fighters told them about the Syrian Arab Army (SAA) was not true.
The rebels "told us that they were afraid for us, that the Syrian military will kill us if we move to the SAA-held areas, but
we've seen the opposite,"
Khaled observed.
Khaled told Sputnik that at least 350,000 people remain in eastern Aleppo, including approximately 15,000 rebels. He added that lately the number of foreign mercenaries has fallen.