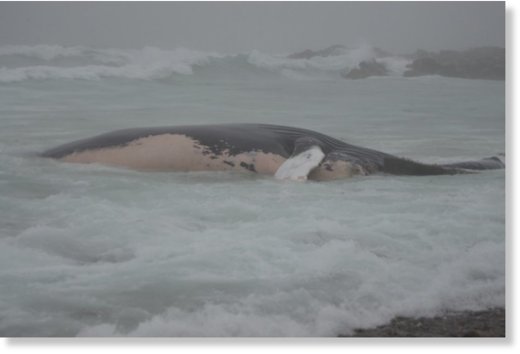 A dead whale that washed in over the weekend has the Town of Lord's Cove wondering what course of action to take.
On Sunday, the remains of the mammal were brought into an inlet in the community known as Joe's Cove.
The whale had been coming in and out with the tide.
"It is beached right now," town manager Eileen Harnett told
The Southern Gazette
on Wednesday.
"On Sunday, it went off quite a ways, but it washed back in again, and it was dead when it came ashore," she said.
Harnett said the town was hoping that the whale would wash back out into open water, "but the wind didn't cooperate."
On Wednesday, Lord's Cove Mayor Natasha Fitzpatrick said that at the time they did not have a plan in place for what to do with the whale.
"If it's still there and something's got to be done with it, well we'll have an emergency meeting," she said.