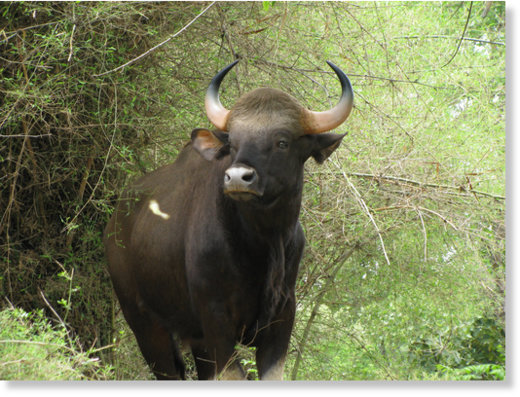 The woman tourist from Chennai, who was attacked by a wild Indian gaur at Sim's Park in Coonoor last Monday, died at Coimbatore Medical College Hospital (CMCH) in Coimbatore, on Wednesday.
Dinesh, 29 and his wife Thamarai, 26, from Mannivakkam in Thambaram, Chennai, were on a leisure trip in Nilgiris, when the incident happened.
The gaur had attacked both of them but Dinesh managed to escape with minor injuries while his wife suffered a punctured stomach.
The newly married couple had come to Ooty last Friday. After visiting various tourist spots in Ooty and its surroundings for two days, they went to Coonoor, this past Monday.
As they were admiring some flowers in Sim's Park, the animal attacked them.
They were rushed to the Coonoor government hospital. After first aid was administered, they were referred to CMCH for further treatment. There, Thamarai underwent an operation and had been kept in the ICU.
"Thamarai had suffered multiple fractures on her ribs and legs," said Dr Soundaravelu, resident medical officer, CMCH. Her liver was found severely injured. A fair amount of blood had collected in her kidneys.
Despite treatment, her blood pressure dropped drastically. She had been kept on ventilator support, said the RMO. A lawyer by profession, Thamarai died at around 3.50pm at the hospital not responding to treatment, on Wednesday.
In the past two years, two men have been killed by Indian gaurs in the same locality
, although not inside Sim's Park. Residents have urged for fencing along border forest areas located adjacent to Sim's Park. This would help curtail wild animals straying into the park.