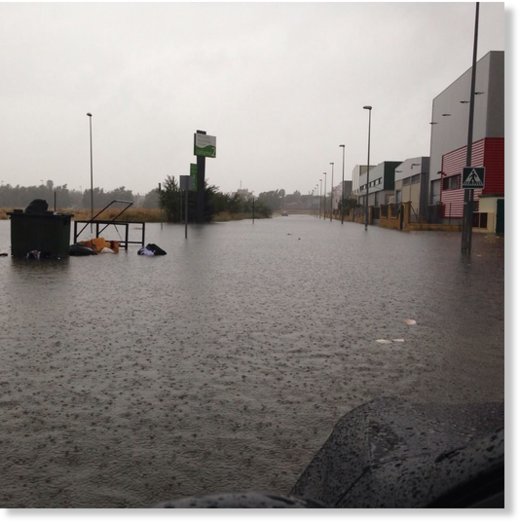 Heavy rain has affected parts of Spain, in particular in Andalusia, since 21 October.
Flooding has been reported in all eight provinces of Andalusia, with Seville the worst affected.
At least four locations in Seville recorded more than 60 mm of rain in 24 hours between 21 and 22 October. Carrión de los Céspedes recorded 85.4 mm during that period.
Meanwhile over 120mm of rain fell at Rota in Cádiz.
Roads, homes and business have all been flooded. Falling branches and flooded tunnels and subways also caused problems.
Emergency services in Andalusia have reported that one man died when his vehicle was swept away by flood waters near the town of Dos Hermanas, Seville. The incident occurred during the afternoon of 22 October. Emergencias 112 Andalucía said that the man's body was found 15 metres from his vehicle. In a separate incident, emergency services had earlier rescued two people from a vehicle trapped in flood water.
Andalusia's Emergency Coordination Center say they responded to 562 incidents as a result of the heavy rain, mostly in Sevilla (466), but also Cádiz (39), Huelva (19), Malaga (18), Granada (9), Almeria (4), Cordoba (4) and Jaen (3).
Emergencias 112 Andalucía said that the province of Sevilla was the worst hit. Over 20 municipalities were affected, including the city of Sevilla, Dos Hermanas, Alcalá de Guadaira and El Viso del Alcor.
The fatality in Seville follows the death of one man in Barcelona Province earlier this month, after torrential rain brought flooding to parts of Catalonia from 12 October, 2016. Around 250 mm of rain fell in 24 hours in some areas.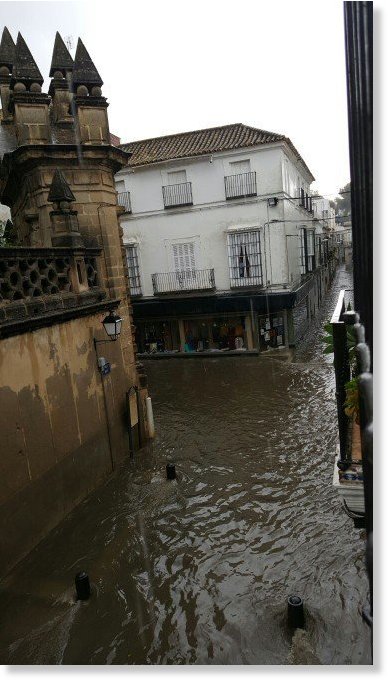 Weather warnings
In Andalusia, numerous rainfall warnings from yellow to orange level were issued by Agencia Estatal de Meteorología (AEMET), from early 21 October onwards.
21/10 10:45 #AEMET actualiza #avisos por lluvias en Andalucía. Activos mañana. Nivel máx amarillo +info https://t.co/z4jMsKcRau

— AEMET_Andalucia (@AEMET_Andalucia) October 21, 2016
Rainfall
21 to 22 October
Rota, Base Naval, Cádiz - 121.0 mm
Carrión de los Céspedes, Sevilla - 85.4 mm
La Puebla de los Infantes, Sevilla - 71.4 mm
Sevilla Aeropuerto, Sevilla - 69.4 mm
Sevilla, Tablada, Sevilla - 68.4 mm
22 to 23 October
Grazalema, Cádiz - 64.1 mm
San José del Valle, Cádiz - 52.8 mm
El Bosque, Cádiz - 50.4 mm
Almadén de la Plata, Sevilla - 42.8 mm
Medina Sidonia, Cádiz - 40.6 mm
23 to 24 October 2016
El Cerro de Andévalo, Huelva - 46.6 mm
Alajar, Huelva - 32.2 mm
Barbate, Cádiz - 29.6 mm