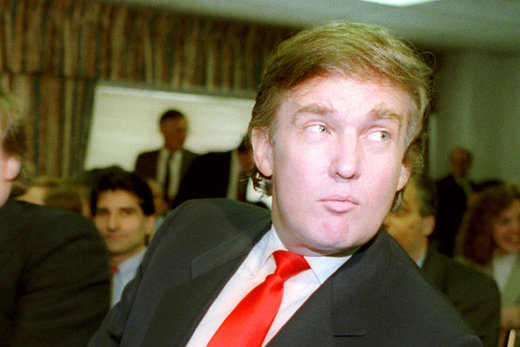 Two women told
The New York Times
in a report published Wednesday night that Republican presidential nominee Donald Trump touched them inappropriately,
allegations that were swiftly followed
by a similar claim in
People
magazine.
The
Times
reported that Jessica Leeds and Rachel Crooks each had encounters with Trump in which he groped or kissed them without their consent. One of the alleged incidents occurred in 2005, the other
more than 30 years ago
.
People Magazine
published a report later Wednesday night by one of its writers, Natasha Stoynoff, in which she alleged that she had been physically attacked by Trump at Mar-A-Lago while she was on assignment in December 2005 writing a profile of his first anniversary with his wife, Melania.
The Trump campaign issued a statement denying the allegations in
The Times
, saying the reports were
politically motivated
and threatening to sue the paper.
"
It is absurd to think that one of the most recognizable business leaders on the planet
with a strong record of empowering women in his companies would do the things alleged in this story,
and for this to only become public decades later in the final month of a campaign for president should say it all
," said Jason Miller, a Trump spokesman.

Comment: The curious thing is, even putting aside waiting 30 years, the Democrats and MSM have been hungry for anti-Donald material. It's difficult to imagine these women would keep quiet, only to come forward claiming what happened conspicuously mirrors exactly what was said in the leaked tape, and that they wouldn't have found support and a platform until AFTER the leak.


The campaign did not respond to request for comment regarding the People Magazine story, but a Trump spokesperson told People, "This never happened. There is no merit or veracity to this fabricated story."
CNN has not yet independently confirmed either The New York Times or People Magazine accounts.

Comment: But you're gonna run with it anyway. Tsk tsk.


The women chose to tell their stories after Trump told CNN's Anderson Cooper during the second presidential debate "no, I have not," when asked repeatedly did he ever "
kiss women without consent or grope women without consent.
"

Comment: It's a misleading question to be sure. Most romantic communication between two people is in body language. Most married people didn't "ask for consent" for their first kiss, or probably many after.


Trump told
The New York Times
reporter: "None of this ever took place."
An attorney for Trump demanded a "full and immediate retraction and apology" from the Times.
"Your article is reckless, defamatory and constitutes libel per se," attorney Marc E. Kasowitz wrote in a letter to Dean Baquet, the executive editor of
The New York Times
. "It is apparent from, among other things, the timing of the article, that it is nothing more than a politically-motivated effort to defeat Mr. Trump's candidacy."
Trump is also threatening to sue The Palm Beach Post over the publication of another incident of alleged groping.
Jennifer Palmieri, Hillary Clinton's campaign communications director, issued a statement in the wake of the report, saying, "
This disturbing story sadly fits everything we know about the way Donald Trump has treated women. These reports suggest that he lied on the debate stage and that the disgusting behavior he bragged about in the tape is more than just words.
"

Comment: Yeah - probably because you engineered it.


The
Times
report comes in the wake of an "Access Hollywood" videotape, obtained Friday by The Washington Post, in which Trump is heard making sexually aggressive comments about women. He recounts how he tried to "fuck" an unidentified married woman before bragging that he is "automatically attracted to beautiful (women)" and just starts "kissing them."
According to
The Times
, Jessica Leeds, who was 38 at the time but is now 74, said that she was on the same flight as Trump, sitting next to him in first class.
She told
The Times
about 45 minutes after takeoff, Trump lifted the armrest, moved toward her and then began to grope her.
The Times
wrote, Trump "grabbed her breasts and tried to put his hand up her skirt," according to Leeds' account.
"He was like an octopus," she told
The Times
. "His hands were everywhere."
Conway avoids commenting on Trump's beauty pageant bragging
Crooks told the
Times
she was kissed by Trump when she was a 22-year-old receptionist at Bayrock Group, a real estate investment and development company in Trump Tower in Manhattan. They met outside the elevator in 2005 -- she introduced herself and then they shook hands, but Trump would not let go, she said.
Instead, he began kissing her cheeks and then he "kissed me directly on the mouth," she told the Times.
"It was so inappropriate," Crooks said. "I was so upset that he thought I was so insignificant that he could do that."

Comment: He may have just thought you'd be into him. Kind of makes him a moron, but not everything is a class struggle.


Neither of the women pursued legal action, but both told friends and family, who also spoke to The Times. The newspaper said Cooks described her experience immediately after it occurred while Leeds did so more recently.
Corey Lewandowski, Trump's former campaign manager who is now a CNN contributor, told Don Lemon Wednesday he doubted the events occurred.
"I don't think it happened," he said on "CNN Tonight." "Donald Trump said it didn't happen. And I think the people on the plane would have seen something like that occur if an octopus was assaulting a person on a plane."
In the "Access Hollywood" video, Trump bragged about trying to have sex with a married woman and being able to grope women.
"When you're a star, they let you do it. You can do anything ... Grab them by the pussy. You can do anything," Trump said in the footage.

Comment: While the comment is disgusting, we should point out he said: "they let you do it," which implies consent. He doesn't say: "When you're a star, you can do it even if they don't let you." Still - a few face slaps are well earned at this point.


Also in the wake of Friday's leak, one woman who CNN anchor Erin Burnett has known for years told her she had a similar experience with Trump.

Comment: Everyone loves a dogpile.


The woman -- who asked not to be identified -- met Trump in a boardroom in Trump Tower and another man -- a colleague of Burnett's friend -- was in the boardroom at the time of the incident.
The woman told Burnett: "Trump took Tic Tacs, suggested I take them also. He then leaned in, catching me off guard, and kissed me
almost on the lips
. I was really freaked out. ... After (the meeting), Trump asked me to come into his office alone. Was really unsure what to do. ... Figured I could handle myself. Anyway, once in his office he kept telling me how special I am and gave me his cell, asked me to call him. I ran the hell out of there."
Since Trump's recorded remarks leaked, he has lost the support from members of his own Republican Party and faced criticism about his past treatment of women.
He argued at the second presidential debate that his comments were only "locker room talk" and that he never has sexually assaulted a woman.