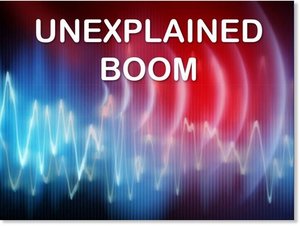 A loud and still unexplained boom startled South Frontenac residents on the evening of Saturday, Sept. 24.
The boom, first reported at around 8:50 p.m., was heard throughout the county, including Inverary, Sydenham, Glenburnie and Sunbury. Several residents of Rutledge Rd, Railton Rd, Greenfield Rd, Perth Rd, Freeman Rd, Unity Rd, Round Lake and Silverwood Dr reported what was described as "a window rattling explosion".
While South Frontenac fire crews and OPP quickly responded to the reports, they reported nothing visible and were unable to find a cause. Some theorized that a jet may have caused a sonic boom, however no jet noises were reported prior to the sound. Another theory, an earthquake, has not been corroborated by recent seismographic records.
There are some unconfirmed reports of a visible meteor streaking across the sky north of Kingston at approximately the same time, however, as well as areas of the GTA and Northern USA.
Some residents jokingly pointed out that the boom coincided with Brad Marchand's goal against the Russians, giving Canada the lead in the World Cup hockey game. The investigation continues. More to come...