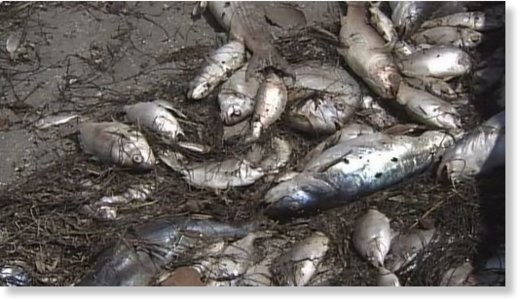 Dead fish are popping up all over Longboat Key, causing a lot of concern among residents and visitors.
"It's makes me very sad," said Claude Lewkowiez, a Tampa resident visiting Longboat Key.
Lewkowiez and her husband Emile are vacationing on Longboat Key this week.
"It's not pleasant to the eye and it's even less pleasant to the smell," said Emile.
The Florida Fish and Wildlife Commission has confirmed the fish died from a high concentration of red tide. State wildlife officials say the red tide is most likely a little further offshore, and there are patchy spots of it.
"There was fish on the north end and the central part," said Dave Bullock, Longboat Key town manager. "(Tuesday night) when our police boat was out, he did a little survey and he suggested the presence of fish is moving south."
Right at the moment the Town of Longboat Key will not be removing these dead fish. They say the tide brought these fish in, and the tide will take them back out, but it's something town officials say they will continue to keep a close eye on daily.
"We'll respond to them when it begins to significantly impact peoples ability to have a pleasant experience," said Bullock. "We're not there yet."
The FWC and Mote Marine Lab are doing daily sampling of the water. The results from those tests are expected within the next day.