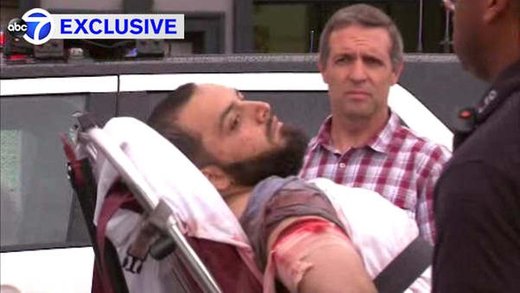 Just a day after bombing Syrian troops who were fighting Daesh, the Americans have
bombed Afghan police
who were fighting the Taliban. The officers were guarding a security checkpoint near Tarin Kot during the "double tap" (trademark held by the IDF) airstrikes. The first airstrike killed one officer, then when seven additional officers returned to the scene, they too were targeted and killed. Highway Police Commander Samunwal Rahimullah Khan told VOA, "we are unable to understand why Americans targeted our policemen."
The U.S. insists it was targeting "individuals" firing on Afghan National Defense and Security Forces.
Perhaps the U.S. really is that incompetent.
Or perhaps the U.S. really is that Machiavellian - staging a repeat of their "mistake" in Syria just in order to prove to the world that it really was an accident. Either way,
the world should react by containing American idiocy and the destruction it causes, whether mistakenly or intentionally. Either way, people die needlessly.
Something odd is happening in response to the airstrike on Syrian troops.
Some U.S. vassals are lining up to fall on their swords for their master.
First it was the
Australians
, whose Defense Department said their jets participated in the massacre (despite the fact that the attack was reportedly carried out by F16s, and the Australians only have
F18s
in the fight).
PM Turnbull
regurgitated the U.S.'s official statement ("we would never intentionally... blah blah... regret... blah..."), adding that coordination with Russia in Syria is "desirable".
Next to fess up was
Denmark
, saying 2 of
their
F-16s were involved, and they too regurgitated the U.S. statement ("stopped immediately after the Russians reported"). Confused yet? There were only supposed to have been
2
F-16s involved, and we're already up to 4.
Finally, the UK "
confirmed
" that
it too
took part in the massacre, and it too regurgitated the U.S. lie ("never in a million billion gazillion years would we ever even remotely consider entertaining the tiniest fleeting thought about intentionally targeting the Syrian military...blah, blah...").
So the strike now involves the UK, the US, Australia and Denmark. Well gee whiz, it looks like there wasn't any room for Americans in this coalition of the shilling!
Isn't it great to have your underlings take the blame and parrot your lies?
Even if people were to believe the glaring lie that 'it was all a big mistake', it should still be obvious that the US coalition is ineptly dangerous and can't stop itself from aiding terrorists.
Germany for one, didn't follow suit. Foreign Ministry spokesman
Jens Flosdorff
called the attack "a very sad mistake; it is a great pity that it happened."
USA Today
reported, citing "a US official", that the attack was of a "
dynamic nature
". In other words, the operation wasn't pre-planned; it was a "target of opportunity". Don't feel bad if that leaves you confused;
it's nonsense
. They're basically just saying they were flying around and decided to bomb something. Which is almost as stupid as their previous explanations.
Assad's adviser
Bouthaina Shaaban
appeared on RT, confirming earlier military source accounts of what happened Saturday:
The moment the American planes struck the Syrian army, the terrorists came from the same side that the Americans struck, and occupied the place [that] the Syrian army was in. So it was obvious to anyone in the field that there is an absolute coordination between the American planes who shelled the Syrian army and the terrorists who came in place of the Syrian army.
America the Exceptionally Self-Entitled then followed up their ignominious performance by flying another drone over Deir ez-Zor, which was reported by local media as having been
shot down
by Syrian forces yesterday.
In northern Syria, Erdogan says Turkish troops and Turkish-backed rebels are currently "moving south" in the hopes of establishing a much-longed-for "
safe zone
" spanning 1,930 square miles. He says one purpose of the safe zone will be to re-settle refugees. He also gave a slightly
cryptic explanation
for why U.S.-backed FSA rebels expelled U.S. special forces from al-Rai last week: "The FSA does not want the US special forces' assistance
because of the US' behavior in relation to the Syrian opposition
. Our troops led out 30 US special forces soldiers." Do they think they've been betrayed or something? Poor America just can't seem to make any friends out there. Must be hard.
Kerry continues to
blame
the Syrian government for the U.S. rebels' refusal to clear out from the Castello road and allow aid to pass through, saying "The regime, once again, is blocking it." Poor Kerry, he can't even tell the difference between U.S. rebels and the Syrian government anymore. UN Under-Secretary-General for Humanitarian Affairs and Emergency Relief Coordinator
Stephen O'Brien
insists:
"Humanitarian aid must remain neutral, impartial and free of political and military agendas. The United Nations and our partners remain ready to meet people's needs regardless of who or where people are."
This guy must not realize that Nusra has rejected the aid offers, and would most likely ambush any such convoys. Meanwhile,
Russia and Belarus
successfully delivered 2.9 tons of milk, food and blankets to civilians in Latakia province. One hundred civilians managed to
escape
the jihadis in east Aleppo, and will also receive Russian-Belarusian aid.
The Russian General Staff
responded
to Kerry, blaming Washington of creating the situation in order to accuse Moscow and Damascus of disrupting aid delivery:
The issue of providing humanitarian access to besieged areas of Aleppo has also not been resolved, Rudskoy added, stressing that opposition fighters have failed to adhere to the agreement and to set up a checkpoint to allow aid convoys to pass through safely. "Armed groups under US control have not set up a checkpoint in the eastern part of the Castello road [north of Aleppo] and have not handed it over to the Syrian Arab Red Crescent. Fighters, weapons and equipment have not been withdrawn from Castello."
Even though the state of the ceasefire was still shaky this morning (U.S.-backed rebels violated the ceasefire
50 times
yesterday), the Russian Defense Ministry added
four new locations
to their
livestream
ceasefire monitoring/broadcasting: Jabal Zarzur on the eastern outskirts of Aleppo, Khalidiya in the city's northwest, Khai-al-Ansari, and the Nayrab village in the southeast. (One of the feeds
died
after its location was targeted by rebel fire.)
Livestream ceasefire monitoring/broadcasting... Why, in all the decades in which it dominated technology, media and 'humanitarian interventions' did the US and its allies not once come up with that idea?
This comes as the U.S.-backed rebels unite with U.S.-backed al-Qaeda/Nusra/JFS to prepare for a new offensive. Wow, the U.S. sure is a "reliable partner". Not. This is what the Russians had to say about the situation
earlier today
:
"In the provinces of Aleppo and Hama, opposition units used the ceasefire to regroup, get more ammunition and prepare for an offensive to capture more territories, while the Syrian troops have ceased combat operations," Lt. Gen. Vladimir Savchenko said. "The joint US-Russian statement on the cessation of hostilities in Syria reached on February 22, 2016 says that our states 'will also work together...to delineate the territory held by Daesh, al-Nusra Front and other terrorist organizations designated by the UN Security Council.' Unfortunately, our US colleagues still have not made any real steps in this direction," the Russian Defense Ministry said. ...

"In the past 24 hours alone, the number of shelling attacks by militant groups reached 53 episodes. The cessation of hostilities regime has been violated a total of 302 times since it came into effect. During this period, 63 civilians died and 252 were injured, Syrian armed forces lost 153 service members," Lt. Gen. Sergei Rudskoy, the head of the Russian Chief of the General Staff's Main Operational Directorate, said. The Russian reconciliation center said that militants' shelling of residential districts of Aleppo killed 10 civilians, including 2 children, and wounded 30 others. "They attack not only positions of the government's forces but also residential neighborhoods with civilian population. Within last 24 hours, ten civilians, including two children, were killed in the shelling from the militants-held areas. Thirty people were injured."
The Foreign Ministry
denied reports
about the closure of the Baghdad Information Center set up last year when Russia began its Syrian campaign in order to share intelligence between Russia, Iran, Iraq and Syria, calling the internet report "nothing but a piece of blatant disinformation":
"The Baghdad center remains an important tool of practical cooperation among all participants of the fight against the Islamic State [Daesh] terrorist organization...while all our partners have reaffirmed their interest in further development of such cooperation."
In fact, just today, the Russian and Iraqi Foreign Ministries
discussed
"the development of the situation in Iraq and Syria during":
"They particularly focused on the steps needed for a consolidated fight against Islamic State (IS) [Daesh] and other terrorist groups. A series of practical aspects of Russia-Iraq multifaceted cooperation have also been discussed."
Yesterday, Kerry was still calling for the joint implementation center to be created, but
blamed Assad
for the fact that it hasn't (and probably won't).
"So let me just say this clearly: Russia signed up to a cessation of hostilities. Assad said he would live by it. Then he needs to stop [blocking aid] and let the joint implementation center get set up so Russia and the United States can coordinate in order to avoid the kind of terrible thing that happened yesterday that we all acknowledge and regret," Kerry said.
The day that Kerry and his ilk admit that it is they who have broken the ceasefire - through their rebel proxies and through their massacre of Syrian troops - will be a cold day in Killary's kitchen (otherwise known as the seventh plane of hell).
The General Staff also
responded
to Kerry's claims that the Syrians have carried out "indiscriminate" airstrikes during the ceasefire:
"I feel we must respond to State Secretary John Kerry's ungrounded accusations concerning 'indiscriminate bombing' by the Syrian air force. Neither Russian nor Syrian air force carried out airstrikes in the past week against areas identified in the Geneva agreement," Lt. Gen. Rudskoi said.

There is no point in unilaterally abiding by the ceasefire regime for the Syrian government as the truce is regularly violated by militant groups, Rudskoi added. "Given the fact that militants do not abide by the ceasefire regime, we believe that there is no sense in unilateral compliance with the ceasefire by the Syrian government forces," Lt. Gen. Sergei Rudskoi said at a briefing.
In addition to U.S. and rebel attacks, the U.S. couldn't even fulfill its
bureaucratic end
of the bargain:
"We have to note extremely low activity of US colleagues in addressing our legitimate concern. For instance, we submitted to Americans a total of 16 information requests since the first day of the truce, September 12, 2016," Col. Alexander Zorin, the Defense Ministry's special envoy to Geneva said.

The Russian military requested data on terrorist-controlled areas, US plans of pulling out armed groups from the Castello Road, proposals to set up a round-the-clock "hotline" between the Russian military case in Syria's western Latakia province and their US counterparts, as well as investigation of ceasefire violations by Syrian opposition forces.
Konashenkov added: "After a week of ceasefire, it has become clear that
the US side has neither influence nor even contacts with 'moderate oppositionists' acting on the ground in Syria
rather than in western capitals."
Given all the above, it will not be surprising if the ceasefire fails to be renewed. The 7-day ceasefire is officially over today, as
announced
by the Syrian army, and they made no mention of a renewal. The rebel offensive on government troops in Aleppo has reportedly
begun
:
After intense shelling, the Syrian Army is attempting to prevent the terrorist group from breaking through to the city's center. "The Syrian troops are engaged in heavy defensive fighting to prevent terrorists from breaking through to the center of Aleppo," the Russian Center for Syrian reconciliation said. The shelling by tanks, multiple launch rocket systems (MLRS), and mortars continued for roughly half-an-hour.
At the same time, the first humanitarian aid has reached Aleppo, crossing the conflict line into the Big Orem area of the city, according to the UN's Office for the Coordination of Humanitarian Affairs. Kerry is
pleased
: "
The basic ceasefire is holding
, but fragile, obviously.
Humanitarian assistance is moving today to some eight different locations
, but we're waiting to get the full download from our team that is meeting now with the Russians in Geneva."
Terror distraction in the USA
Where to begin? The break-down of the Syrian ceasefire has been pushed off the front pages across the West in the wake of the "terror attacks" and "terror non-attacks" in the US Northeast this past weekend. The father of Somali-born Dahir Adan, 22, who was shot and killed after Saturday's knife attack in Minnesota claimed by Daesh,
says
his son didn't give any indication of being tied to the U.S. proxy terror group. Adan
reportedly
"made references to Allah" and asked potential victims whether or not they were Muslim.
But one victim, who was stabbed in the head (chipping his skull)
said this
: "
Not a single word, not even like a grunt or like anything any emotion? Nope. He looked just blank in the eyes like he wasn't even there
." Aside from the ISIS propaganda claim of responsibility, there doesn't seem to be any corroborating evidence as of yet to establish Adan's motive.
As covered in yesterdays Snapshot, this wasn't the only terror event in the U.S. on Saturday. In New Jersey, an unexploded pipe bomb was discovered in Seaside Park, where a military charity run was set to take place. One pressure cooker bomb exploded in Chelsea, Manhattan (injuring 29 - all of whom have now been released from hospital), and another unexploded one was discovered four blocks away, filled with explosives and shrapnel.
Naturally, police presence, i.e. "security", has been
intensified
, including 1,000 state troopers and National Guards. Expect "enhanced bag checks" (we assume that means your backpacks will be waterboarded and sent to a CIA black site). Incidentally, the explosion happened on NY Police Commissioner James O'Neill's second day on the job.
On Sunday,
five additional explosive devices
were discovered in New Jersey, this time in a trash can hear a train station in Elizabeth, an hour away from Seaside Park. They were discovered by two men who saw wires and a pipe protruding from the package, after which trains were temporarily halted. Elizabeth Mayor Christian said it was possible that someone worried about the authorities was trying to get rid of the package. One of the explosives detonated while the bomb squad was attempting to disarm it (no one was injured).
Authorities were
hesitant
to link the New Jersey and Manhattan devices. Aside from the fact three of the bombs used cell phones, there was no clear connection. Later, more details emerged:
The Chelsea bomb contained a residue of Tannerite, an explosive often used for target practice that can be picked up in many sporting goods stores, a federal official said Sunday. Cellphones were discovered at the site of the bombings, but no Tannerite residue was identified in the New Jersey bomb remnants, in which a black powder was detected, said the official, who wasn't authorized to comment on an ongoing investigation and spoke to The Associated Press on condition of anonymity.
Authorities initially identified a "person of interest" who they say appeared in several videos from the scene of both the explosion and the unexploded device. They also stopped a "vehicle of interest" with five occupants ("
of Muslim descent
"), who underwent questioning but were not arrested. The
New York Post
adds: "It is believed the men,
who live in New Jersey
, were heading to the airport when they were busted."
USA Today
reported that surveillance videos showed the
same person
moving both bombs into place. NBC reported last night that law enforcement warned that there
may
be an active
terror cell
in the NY/NJ area. The suspect was
identified
this morning as 28-year-old Ahmad Khan Rahami, a New Jersey resident and U.S. citizen originally from Afghanistan (he and his family live and work
in Elizabeth
, where the 5 devices were found today). "
Officials
say surveillance video placed Rahami at both of the city locations carrying some type of package. Sources told CBS2 that the video along with finger prints on parts of the device helped authorities identify Rahami." The five men detained are also reported to be associates of Rahami.
Rahami, the suspect of the Chelsea and Seaside Park explosions in New Jersey is reportedly
in custody
, hours after FBI, NYPD and NJ State Police issued bulletins and photos of him. He was allegedly sleeping in the doorway of a local bar, and the police officer who responded to the owner's call recognized the man as Rahami. A gunfight ensued; Rahami produced a handgun and shot the officer in the abdomen before walking away and "randomly discharging" his gun. Police caught up with him and shot him several times. He's reportedly alive and in hospital. Officials now say there is "
no indication
" of a wider cell at large, but it's interesting that that idea was initially 'put out there' yesterday, presumably to hype up the terror factor.
Before the shootout there was an interesting "false alarm". West Point military academy was briefly put on
lock down
after reports that a car matching the description of Rahami's was seen entering the base. The car was found, searched, and determined not to be Rahami's.
Interestingly, the FBI had issued a
terror alert
on Friday (allegedly in anticipation of the UN General Assembly meeting taking place this week).
Newsbites
WADA doping scandal continues
If you thought the hypocrisy over the Olympic doping scandals couldn't get any worse, a new release of hacked WADA drug tests shows the bottomless pit of Western deceit. The release has incriminated a list of high-profile athletes from Argentina, Germany, Australia, Spain, Belgium, Burundi, Canada, Denmark, France, Hungary and the USA. Included in the list are the UK's Olympic superstar Mo Farah and Spanish tennis player Rafael Nadal, who is widely considered 'the greatest clay-court player in history'. The reason for such doping to be allowed is that many of these player suffered illnesses that required steroid treatment. There's apparently an epidemic of illnesses among the world's top athletic performers!
US-Made Bomb Used in August Attack on MSF Hospital in Yemen
The bomb used to blow up a Doctors Without Borders hospital in Yemen in August, killing 11 and injuring 19, was proudly made in the USA, prompting Amnesty to say: "States - including the USA and UK - must immediately stop supplying weapons that could be used in the Yemen conflict." But that's what they sell them for? Amnesty is exposing itself as an anti-capitalist, bleeding-heart liberal, peace-loving, communist threat to national security! Maybe it's time the U.S. and UK sent a little freedom their way.
The IDF cooperates with Al-Nusra Front in Syria! - Druze Representative in Israel Knesset calls them out
In a television interview with Israel's Channel 2, Knesset member Akram Hasson stated that, according to local sources, the IDF actively cooperates and supports terrorist group Al Nusra in the Golan Heights, by bombarding Syrian Army positions to prepare them for Al Nusra attacks. Israeli Army Chief Gadi Eisenko denied the accusation.
Israel has right to exist, but so do boycotts against it - Labour leader Corbyn
Jeremy Corbyn picked his way through the minefield of party politics re: Israel in the last debate before the next Labour Party leadership election. "It is right that consumers can send a message to a government saying your products that are produced in the settlements, which are illegal, should not be sold in the open market," Corbyn told the audience. Nice.
Saudi Arabia head choppers arrest Daesh head choppers who were planning suicide attacks
Saudi Arabia arrested 17 members of a terrorist cell with links to the Islamic State. Security forces reportedly seized explosives, suicide belts, and roughly $160,000. The question remains on whether Saudi Arabia is trying to clean up their image, if they have lost control over their proxy terrorists, or if this planned attack is suggestive of a widening rift between the US and Saudi Arabia terrorist sponsors. Consider that two of the original reasons for the Saudis' support of al-Qaeda was to have them create chaos in other countries, and to
get them out of Saudi Arabia
. Mercenaries are bad enough. Nutjobs are worse.
Border conflict between Uzbekistan and Kyrgyzstan peacefully resolved
Uzbekistan withdrew its police and border guards along the disputed Unkur-Too Mountain border after officials from both countries negotiated a peaceful resolution.
Trump shatters GOP records with small donors
Trump may be a demagogue, but we can't deny that he has the support of a significant portion of Americans. His small donor donations are breaking records. "All told, Trump is approaching, and has possibly already passed, $100 million from donors who have given less than $200, according to an analysis of available Federal Election Commission filings... It is a threshold no previous Republican has ever achieved in a single campaign. And Trump has done so less than three months after signing his first email solicitation for donors on June 21 — a staggering speed to collect such a vast sum." He's not doing too poorly in the (official) polls either...