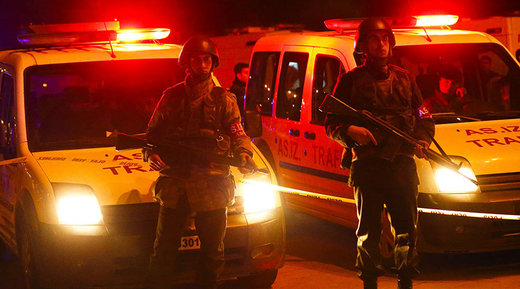 A suicide bomber reportedly targeted a wedding ceremony in the city of Gaziantep in southern Turkey near the border with Syria on Saturday night. The local governor said it was carried out by "terrorist organizations."
"A suicide bomber blew himself up" in a neighborhood where a wedding was taking place, according to a Twitter user Efridun.
At least 8 people were killed and 30 injured in the attack, according to preliminary information from the authorities, Turkish journalist Mete Sohtaoglu said on Twitter.
Other unconfirmed reports on social media say around a dozen people have been killed and scores injured.
Turkish national broadcaster NTV confirmed the news, saying a "terrorist attack" had targeted a wedding celebration.
Many ambulances have been dispatched to the area, it reported.
Gaziantep Governor Ali Yerlikaya has released a statement saying the blast was an attack by "terrorist organizations," according to Turkish Haberturk news outlet.
RT Updates:
Numerous ambulances have been dispatched to the area. According to scarce media reports, the injured, which include children, have been taken to at least four hospitals in the city, and blood donations are urgently needed to save their lives.
"The aim of terror is to scare the people but we will not allow this,"
said Turkish Deputy Prime Minister and Gaziantep's representative in the Turkish parliament Mehmet Simsek, adding
"it is barbaric to attack a wedding,"
as cited by AFP.
Prior to the attack, the governorship of the province
declared
a 15-day special security zone near the border with Syria
. The decision to invoke extra security measures followed a recent Islamic State (IS, formerly ISIS/ISIL) rocket attack that came from the Syrian side of the border, striking a Turkish town called Karkamış in Gaziantep Province. Special security zones allow authorities to search all types of border traffic in the area.
In the meantime,
Turkish media authorities (RTUK) have temporarily suspended the broadcast of information regarding the deadly blast, citing national security concerns
. In making the
announcement
, the government watchdog said that the measures had been introduced in order to avoid spreading
"fear in the community which could create panic and chaos."
It also noted that publications defying the order could
"serve the purpose of terrorist organizations"
responsible for the blast.
Broadcasters are banned from showing scenes from the moment of the explosion, scenes after the explosion, and first responders and public officials working at the scene. Showing scenes of the injured or the dead are also prohibited.