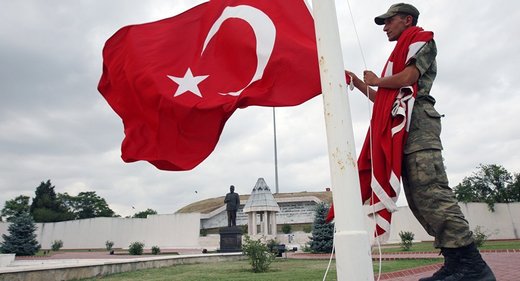 Ankara could seek ways of cooperation in the defense sector outside NATO, according to Turkish Foreign Minister Mevlut Cavusoglu.
Turkish Foreign Minister Mevlut Cavusoglu signaled his country's readiness to develop defense cooperation outside
NATO
, the German news network
N-TV
reported.Cavusoglu noted, in particular, that the air defense systems installed by NATO do not cover the entire territory of Turkey.
"We want to make our own [missile] defense system
... and we have relevant technology for the purpose.
Other countries outside NATO also have advanced technology and know-how,"
Cavusoglu said.
At the same time, the top Turkish diplomat made it clear that
Ankara
is not going to withdraw from the alliance.
He was echoed by Turkish Ambassador to Russia
Umit Yardim
, who said that recent reports that Turkey and NATO are reassessing their relations and that "Turkey could be leaving NATO" hold no water.
He added, however, that NATO has no right to dictate what foreign policy decisions Turkey should take and what countries it should build relations with.
Yardim underscored that Turkey is "independent in creating its foreign policy."
Cavusoglu, for his part, said earlier this month that that
Turkey
had repeatedly tried to interact with NATO member countries, but that the results did not meet Ankara's expectations.
Apparently, it was something that finally prompted Turkey to look for other partners to cooperate in the defense sector.
Expanding bilateral defense ties was high on the agenda of Tuesday's talks between Russian President
Vladimir Putin
and his Turkish counterpart Recep Tayyip Erdogan in St. Petersburg.
European media outlets reported at the time that Ankara is particularly interested in buying the Russian-made air defense systems.
In this vein, Erdogan's spokesman
Ibrahim Kalin
said that improved relations between Ankara and Moscow will not affect Turkey's NATO membership.
The Turkish newspaper
Daily Sabah
quoted him as saying that "Turkey remains one of NATO's strongest members, and our ties with Russia would not cast a shadow on that."