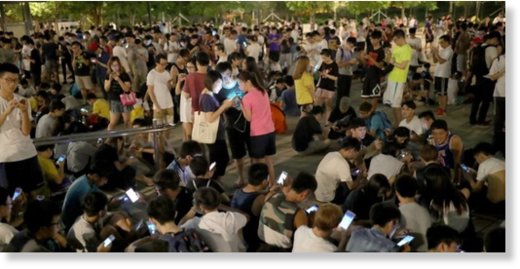 Crowds of smartphone-wielding game players throng city parks late into the night, and shop, bars and hotels use various means to draw them; players outside urban area driven bats by poor choice of Pokemon
The augmented reality game Pokemon Go was launched in Hong Kong only two days ago and it's already caught fire.
Large groups of phone-wielding zombies have flooded parks and public spaces even late into the night, sparking the concerns of the police force. Construction sites have put up posters warning gamers not to enter and employees not to play while working. And this being Hong Kong, retailers and shopping malls have been quick to try to cash in on the game.
Many installed Lure Modules, which attract not just Pokemons - the creatures players of the game have to catch - but Pokemon Go trainers, as players are called. The presence of a Lure Module is indicated to players by cherry blossom petals which pop up on their mobile phone screens. Given the city's high population density and densely packed buildings, petal concentrations unseen anywhere else in the world have been logged in areas such as Central, Wan Chai and Causeway Bay.
With the game requiring heavy data use and draining players' phone batteries, businesses have stepped in to help. Mobile phone service providers CSL is giving free unlimited data to customers who download the Pokemon Go app. The Woods, a bar in Central, is providing complimentary Wi-Fi and wall sockets for ease of phone charging. Players can enjoy the game while sipping Pokemon-inspired cocktails. (Bulbasaur Basil Daiquiri, garnished with greens & sprouts, anyone?)
In addition to charging zones and Pokemon-themed drinks, Ovolo Southside, a hotel in Southern District, promises guests they'll snare a wide range of virtual creatures, from Drowzees to Clefairies, Poliwags to Psyducks.
While there's a proliferation of creatures in urban areas, those who live far from town centres have complained of finding only bats, bats and more bats.