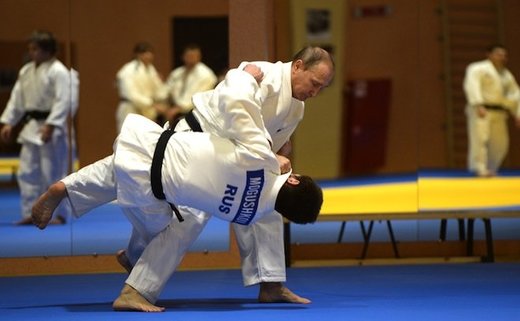 A judo program co-created by Russian President Vladimir Putin and entitled "The Art of Judo: From Game to Mastery," was presented by Russia's Olympic judo team during a special event on Thursday, the RBC news website reported.
The program's textbook, simply called "The Art of Judo," gives a short history of judo's fighting style and prominence. Putin authored the textbook along with friends and experts, including businessman and vice president of the of the Russian Judo Federation Arkady Rotenberg.
The textbook is accompanied by a handbook, "From Game to Mastery," designed for the coaches and parents of young athletes. It contains 90 laminated cards demonstrating exercises and techniques for use by trainers.
The program's publisher, "Education," of which co-author and Putin associate Rotenberg is a shareholder, says that the program hopes to raise a new generation of healthy Russians.
Up to 7 million copies of the program will be distributed to Russian schools of judo in the coming weeks.
The Russian government said in 2015 that up to 13 million people in Russia study judo, the Lenta news website reported.
Vladimir Putin contributed to judo education for the first time in 1999, when he co-authored a book called, "Let's Learn Judo with Vladimir Putin." In 2008, he even participated in a film study, in which the President himself demonstrated some combat techniques.