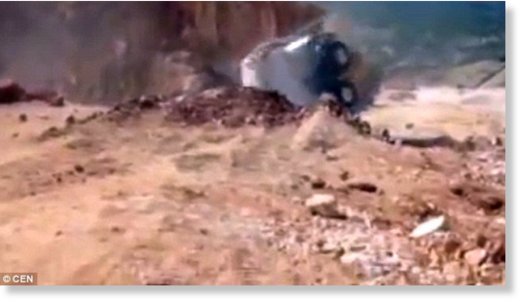 This is the shocking moment a landslide swallowed up a huge tanker at a quarry, dragging it deep underground in a matter of seconds.
A video showed the dramatic incident take place in the Tunceli province, in the middle of Turkey's eastern Anatolia region.
Panicked workers had spotted the gaping hole starting to form around the red lorry which had been parked nearby.
The clip, taken on a worker's mobile phone, shows the huge red lorry start to fall backwards almost in slow motion.
As many colleagues run to higher ground, others get out their smartphones to film the incident.
One can be heard shouting in Turkish: 'Yalla! Giddicek!' which roughly translates as: 'Look, it's going'.
In a matter of seconds the entire red lorry and its huge white container are dragged into the gaping hole as others can only look on in horror.
Workers had reportedly panicked and tried to run away when the landslide occurred but luckily it was reported that there were no casualties in the incident.
Reports did not say what the tanker was transporting, or whether it was full at the time of the incident.