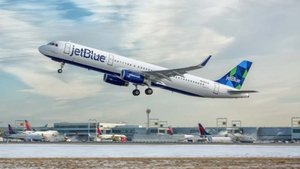 On Monday, a JetBlue flight heading to Orlando experienced
severe turbulence which resulted in eight injured passengers being transported to the hospital
when the plane finally landed.
According to
WESH-TV
, JetBlue Flight 1134 was en route from San Juan, Puerto Rico, to Orlando, Florida, when the plane began to shake violently as attendants served snacks and beverages to the passengers.
One of the people onboard, Veronica Hernandez Torres, stated that the
plane took a sudden dive
, sending passengers without their seatbelts on into the air. Several people onboard reportedly struck their heads on the ceiling of the aircraft.
Once the turbulence was over, crew members found a doctor onboard who examined passengers with injuries, including a woman and a child who suffered cuts and abrasions as a result of the incident.
The flight crew considered making an emergency landing in the Bahamas, but the doctor onboard treated the victims and cleared them to continue the flight to Orlando. The JetBlue flight landed safely just before 9 p.m. local time, and emergency crews were waiting to assist the injured passengers.
As a result of the incident, eight passengers were transported and treated at Florida Hospital East in Orlando, and all were eventually released. Hernandez Torres told WESH-TV that JetBlue offered her a $250 flight credit as a result of the turbulence.
"On Monday, May 9, JetBlue flight 1134 experienced turbulence while en route from San Juan, Puerto Rico, to Orlando," JetBlue said in a statement to WESH-TV. "The flight arrived in Orlando at 8:52 p.m. ET. Medical personnel met the aircraft upon arrival. Eight customers were transported to a local hospital for further evaluation and have since been released. A JetBlue Care Team member was on-site last night at the hospital to support those customers and our customer support team is reaching out to all other customers on the flight."