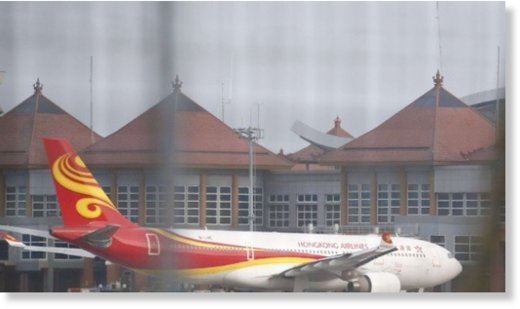 Passengers travelling from Bali - one of whom was severely injured - were rushed to hospital after plane ran into severe turbulence
Seventeen Chinese nationals were injured, with 12 taken to hospital, today as a Hong Kong Airlines flight departing from Bali, in Indonesia, was hit by severe turbulence.
"Twelve people were rushed to a hospital, one of them with a very serious injury," said Herni Pramuharjo, spokesman of the transport ministry said, according to the Chinese state-run news agency Xinhua. "Five others were treated at the health clinic in the airport. All of them were Chinese nationals."
The incident occurred when the aeroplane was flying over Borneo, about one hour after flight HX6704, bound for Hong Kong, took off from Bali International Airport.
The plane was forced to return to its original destination.
A spokesman for Hong Kong Airlines confirmed that 14 passengers and three crew members were injured and that most of the injured had now been discharged. One passenger is still in hospital for further checks.
On Wednesday, 31 passengers and a crew member aboard an Etihad Airways flight were also injured when their plane ran into sudden and severe turbulence
about 45 minutes before landing at the Soekarno Hatta International Airport, in the Indonesian capital of Jakarta.