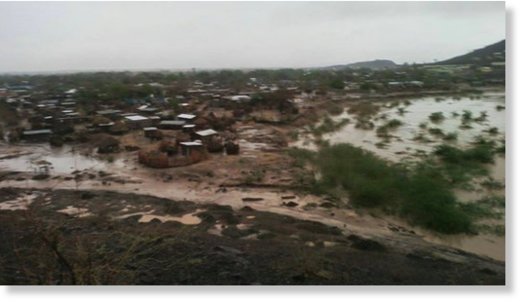 Several parts of Turkana County in north west Kenya saw intense rainfall during the afternoon of 10 March, 2016 which led to overflowing of the Turkwel and Kawalase Rivers.
At least three people died in the floods and more than 1,000 others are said to have been displaced from their homes, according to
local media.
Large numbers of livestock were also reported to have been swept away in the flood waters.
Lodwar town, which sits between the two rivers, was one of the worst affected areas. The villages of Napetet, Soweto, Kalifonia and Nakerekei were also badly hit. Many roads connecting these villages to the rest of the county were flooded making them impassable. Market places, schools and other social amenities were disrupted and rendered inaccessible.
The Director of IGAD Climate Prediction and Applications Centre had earlier warned that some places within the region would continue receiving intense rainfall even as the impacts of El Niño subsided.