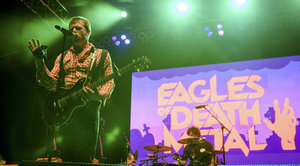 Bataclan security guards were 'warned of ISIS Paris attacks' in advance claims Eagles of Death Metals frontman
The frontman of
Eagles of Death Metal
has claimed guards at the Bataclan theatre in Paris knew that ISIS would launch its sickening terror attack.
Jesse Hughes claimed
six guards did not show up for work on the night of the gig at the Paris venue
.
And he even said
he asked for one guard to be removed from backstage security because he was behaving oddly
.
The American band were performing on stage when ISIS jihadists stormed in and killed 89 people and wounded 200.
During an interview with FOX News, Hughes said: "When I first got to the venue and walked in, I walked past the dude who was supposed to be the security guard for the backstage. I immediately went to the promoter and said: 'Who's that guy? I want to put another dude on.
Eventually I found out that six or so wouldn't show up at all."
Hughes said it seemed "obvious" why they didn't turn up to work.