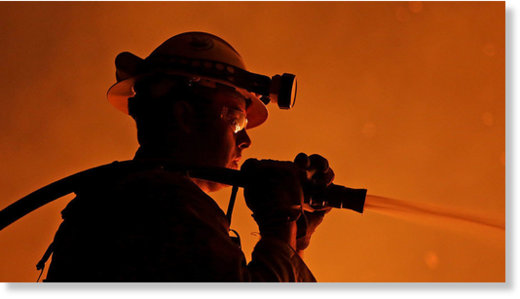 Nine firefighters were hurt after a natural gas explosion leveled two buildings in a Seattle neighborhood. The explosion could be heard for miles from the site of the blast.
The explosion occurred around 1:45am Pacific time on Wednesday morning in the northern Greenwood neighborhood after fire crews responded to calls of a natural gas leak made 40 minutes earlier. The Seattle Fire Department said that eight firefighters and a battalion chief were taken to the hospital after sustaining minor injuries from a "massive explosion."
The department said that 67 firefighters, commanders and medics were at the scene. Puget Sound Energy spokesperson Andy Wappler said that it shut down control valves that feed gas to the area where the explosion happened. He said there was no reason to believe there were other leaks to worry about, KING
reported
.
Two buildings containing a café and an eatery were completely destroyed by the blast, littering the area with debris,
according
to the Seattle Post-Intelligencer. Other nearby buildings were heavily damaged, and the blast could be heard miles away.
"The windows are blown out for half a block on all sides. So it was a huge explosion. It was extremely loud. It was out of control. It was the craziest thing I've ever seen," said a neighbor,
according
to KING.
Another resident of the neighborhood, Emily Pfeifer, told NBC that she "heard a low boom and was rocked from a dead sleep, like a single gentle shove."
The cause of the blast is under investigation.