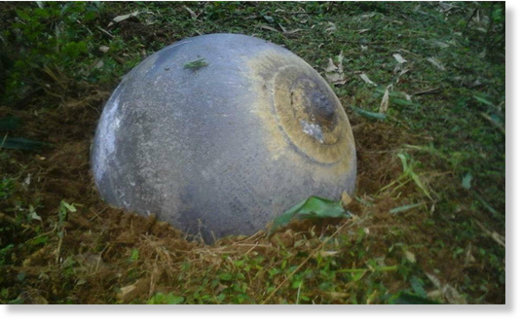 Three unidentified metal orbs were discovered in three provinces in northern Vietnam on Saturday, while a military official said that the spheres might be parts of a flying object.
The first sphere was found by local residents in Tuyen Quang ,Province
following a loud noise from a supposed aerial explosion on Saturday morning.
Provincial leader Chau Van Lam confirmed the report to
Tuoi Tre
(Youth) newspaper and said that competent authorities have been working to identify the metallic object.
The mysterious sphere, about 50kg in weight, which has Russian letters on its surface, was initially identified as a device for meteorological research, Lam said.
However, the presumption was denied by Le Thanh Hai, deputy general director of the National Hydro-Meteorological Service under the Ministry of Natural Resources and Environment.
The object found in Tuyen Quang is not related to the common weather balloon, which carries instruments that can record meteorological statistics, Hai asserted.
Several other people associated the strange ball with the fuel tank of jet engines or space equipment.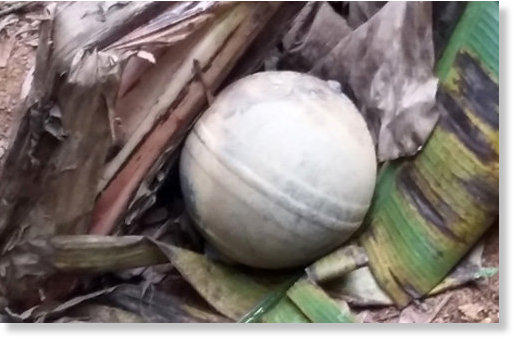 Two similar objects, in different sizes, were also spotted falling onto Son La Province and Yen Bai Province the same day, according to some
Tuoi Tre
sources.
Officials in Yen Bai affirmed that one of the metallic spheres, hollow and 6kg in weight, crashed onto the province at the same time of the incident in Tuyen Quang.
The orbs could possibly be the compressed air tanks of a rocket or an aircraft, Phan Van Tu, former head of the High-Tech Division under the Ministry of National Defense was quoted by local media as saying.
The Russian letters on the spheres indicate that they were manufactured by the erstwhile Soviet Union or Russia, Tu said.
The official also assumed that the objects were made of special alloys or composite materials as they remained intact even after the fall.
Lieutenant General Vo Van Tuan, deputy chief of the Vietnam People's Army, on Saturday evening said that the Vietnamese military was not conducting any activities in the immediate vicinity at the time of the incidents in the three provinces, according to local media.
The objects have been kept by competent agencies to assist in the ongoing identification process.