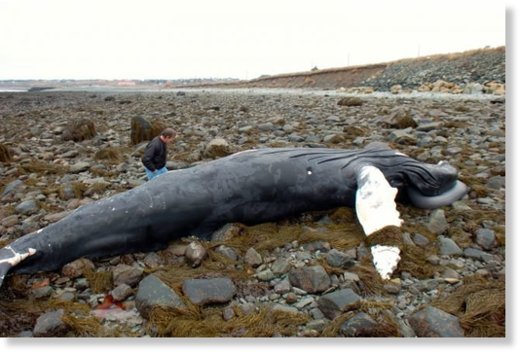 A dead male humpback whale, about 30 feet long, was discovered washed ashore in Sandford on Wednesday.
At low tide around 4 p.m. the body was located, upside down, several hundred feet from shore, about half a kilometre south of the Sandford wharf.
Andrew Reid, a response coordinator with the Marine Animal Response Society (MARS), says typically, when whales die, they tend to float upside down because of decomposition gases and the expansion of their throat.
"It's difficult to say what caused the animal's death without examining it," he said.
Because of the timing of the incident and the likelihood of it being washed back out to sea, Reid could not confirm that representatives from the society would be able to examine the animal, but the photos that were supplied to him by the
Vanguard
could prove helpful.
Because dead cetaceans and seals can provide valuable information to scientists about the animal's behaviour and cause of death, reporting the sighting of dead whales can be extremely useful in improving scientific knowledge.