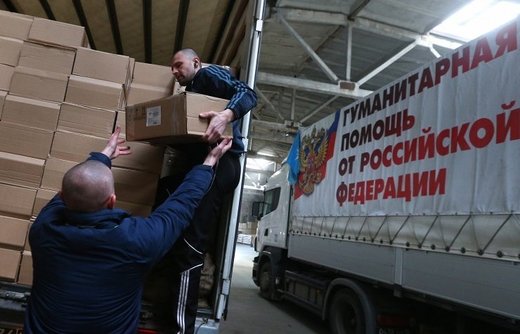 Russia delivered more than 114,000 tons of humanitarian cargos to Ukraine's embattled Donbas region during the conflict, Russian Federation Council Deputy Speaker Yuri Vorobyov told the Rossiya-24 TV channel on Wednesday.
According to him, Russia's Emergencies Ministry humanitarian aid convoys "have already delivered more than 57,000 tons of cargoes to the troubled Luhansk and Donetsk regions."
"Other channels, such as railroads and transportations organized by Russians or non-commercial organizations, made it possible to deliver the same amount of cargos or even more," the senator said. "It was really colossal flow of assistance, necessary for those living in east Ukraine. And Russia has managed to render aid of the kind."
Vorobyov pointed to the efficiency of the Federation Council's initiative to set up a committee on public support to east Ukraine residents, including through coordination of the humanitarian aid delivery.