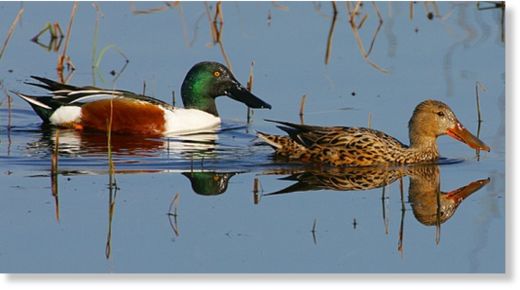 With the beginning of migratory season, thousands of birds, mostly from the Arctic region, have started arriving at the Point Calimere birds sanctuary here. Though the season is yet to peak, ornithologists fear there might be a significant drop in numbers and variety this year as even the common migratory wader species are scarce now. They attribute the phenomenon partially to climate change.
Headed by the Greater Flamingos, the flock of birds, including numerous near-threatened species, is flying into the internationally recognised 'Important Bird Area', while some of them use the sanctuary as a stopover before proceeding elsewhere.
Birds migrate when the weather in their breeding areas turns colder and beyond freezing point and food becomes scarce.
This migratory season some species have arrived early this season. Ducks, which normally arrive by October-end, are already here three weeks in advance.
Northern Shoveller, a long-distance migratory duck species, which breed in the Arctic region, has come in several hundreds.
Many species that are globally near-threatened, are now seen in significant numbers.
Greater Flamingos, cynosure of tourists, have descended in droves. There is also a very significant increase in the numbers of slender-billed gulls, which used to be a rare migrant to the East Coast. In the past four years, a few thousand have been sighted here, according to the Bombay Natural History Society Deputy Director Dr. S. Balachandran..
Other visitors sighted in the sanctuary include shore birds such as Marsh Sandpiper, Little Stint, Lesser Sand Plover, Redshank and Greenshank, curlew sandpiper as also terns, gulls and local migratory birds like pelican and stork.
While the shore birds and some duck varieties fly in from the Arctic and subArctic regions, terns and gulls arrive from Europe and flamingos from Iran.
The near-threatened species visiting the sanctuary include Painted Stork, pelicans, Eurasian Spoon Bills, Black-headed Ibis and Black-tailed godwit. While many species would rest for the season in Point Calimere, some varieties after a stopover here proceed to Sri Lanka, says Dr. S. Balachandran, who is also in charge of the BNHS Bird Migration Study Centre here.
Coinciding with the commencement of the migratory season at the sanctuary, the Centre deployed eight teams comprising ornithologists and students of its popular online ornithology course to survey and record the bird arrivals during this critical period.
The teams recorded numerous aspects such as the variety and physiological features of the birds.
The BNHS has been monitoring the arrival of migratory birds here for the past four decades.