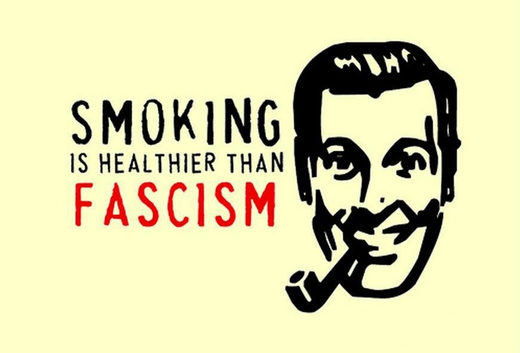 Comment: "If you want a picture of the future, imagine a boot stamping on a human face - for ever." George Orwell, 1984


A cigarette can linger several days in the body and
beginning this month it's enough to disqualify job applicants at Anne Arundel Medical Center
.
Comment:
So along with being unable
to
smoke
virtually
anywhere
, you'll now be unable to get a job if you smoke. The war and discrimination against smokers continues.
The Annapolis hospital has announced it will test the urine of applicants for signs of tobacco
. Fail the test? Lose the job, though applicants may apply again for testing after six months.
"We are role models for the community," hospital spokeswoman Kelly Swan said. "We care about our employees and want them to live healthy lives."

Comment: How about testing them for trans fats? Or eating fast food? Or excessive sugar consumption? How about gluten? Or binge drinking? Or a wide variety of other things that are detrimental to people's health? Even if smoking were harmful, which it's not, this clearly has nothing to do with wanting their employees to live healthy lives:
Anne Arundel Medical Center last year
banned the use on its campus of all tobacco products, including e-cigarettes
. The hospital expanded that policy this month to disqualify job applicants using all tobacco products: cigars, pipes, cigarettes and chewing tobacco.
At least three Maryland hospitals have adopted nicotine-free hiring policies
. Carroll Hospital, in Westminster, began a policy Jan. 1. University of Maryland Upper Chesapeake Health, with campuses in Harford County, began a policy this month.
These bans apply to only new hires
.

Comment: How long until these bans apply to existing employees as well?


"We understand the sensitivity," said Martha Mallonee, a spokeswoman for Upper Chesapeake Health. "As a hospital, and especially one that has a cancer center —
and a cancer center in Harford County, where lung cancer has such a high incidence
— it just seemed like the right thing to do."
Hospitals in Cleveland, Dallas and Philadelphia have also joined the trend
. Still, the bans remain controversial.
"If they had done it back when I was smoking, yes, I would have been a little ticked off about it," said Christina Delfendahl, an office assistant at Anne Arundel Medical Center. "But I can see where they're coming from."
She smoked Newport and Marlboro Menthol cigarettes, nearly a pack a day, for 16 years. She attended smoking-cessation classes at Anne Arundel Medical Center and quit in August of last year, before the nicotine-free hiring policy.
"(The policy) is fair — being in the medical field," she said, "you don't want to come off as a hypocrite."
Delfendahl participates in CrossFit exercises with weight lifting and running. She's lost 40 pounds. "I have a lot more energy, a lot more time, instead of worrying about when my next cigarette is going to happen."
Anne Arundel Community College also began this month a policy banning the use of all tobacco products at its Arnold campus
. Students and faculty, however, may smoke in their cars.

Comment: How long until they can no longer smoke in their cars?


About 42.1 million adults in the U.S. smoke cigarettes, or nearly 18 of every 100 people, according to a 2013 study by the Centers for Disease Control and Prevention. More than 16 million Americans live with smoking-related diseases. Cigarettes kill more than 480,000 people every year, the leading cause of preventable death in America, according to the CDC.
At Anne Arundel Medical Center,
the nicotine test will be included in routine urine tests for drugs
, such as cocaine and marijuana.
Nicotine may linger in the body of a heavy smoker more than one week after the last cigarette, said Kate Snyder, a nurse and employee-health manager at the hospital.
Smokers who quit and use nicotine patches, gum and lozenges may disclose the aids and be hired
.

Comment: As long as the smoker knows that he or she is a sinner, confesses, and repents, then he or she may be forgiven.


The test will come after an interview and before an offer is made. Applicants who fail may apply for another position after six months and be tested again.
The policy, as expected, is unpopular among some smokers.
"
It's a personal choice if you want to smoke. To deny somebody an option to work, just because they smoke cigarettes, that's wrong
," said Matthew Malinowski, manager of Fader's Tobacconists in Annapolis.

Comment: Unsurprisingly, the author of the article appears to have interviewed only one reasonable person and included his statement at the end, where it's least likely to be read, and made sure to note that it's from a Tobacconist, to ensure that people will automatically assume that he's biased towards smoking.


The shop backs up to Anne Arundel Medical Center.
"What if you have somebody who's a social smoker?" he said. "If they're out with friends, having drinks and smoking a cigar — why punish them?"