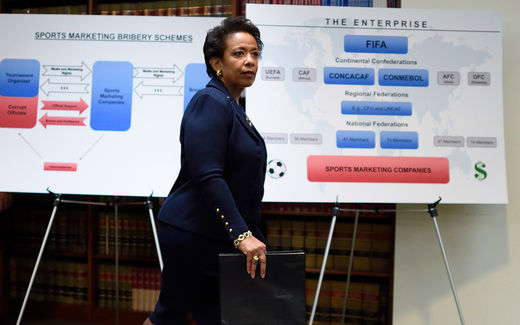 The U.S.-led investigation of top FIFA officials is commendable for its decisive action to punish blatant corruption. But it should also disgust. Far worse crimes occur every day in the financial sector, but the Department of Justice, while obviously aware of them, has done too little. FIFA doesn't come close to Wall Street in terms of havoc wreaked upon the public.
Yes,
1,200 workers have died
on the job building structures for FIFA to use during Qatar's 2022 World Cup, and
4,000 will likely die
by the time the first game is played. That's an alarming number and a tragic loss of life. But
Wall Street's greed-driven destruction of the global financial system in 2008 led to at least 10,000 additional suicides across 54 countries from 2008 to 2010 — more than twice the number of actual and projected worker deaths in Qatar, in a fraction of the time.
FIFA's bribery and corruption are certainly significant to soccer fans, and the harsh treatment of workers building their stadiums is deadly to those workers and their families.
But the financial crisis affected every single person alive.
Millions of people lost homes, their savings and their jobs and drowned in debt. Thousands of people around the world committed suicide at abnormal rates in the years following the financial crisis. Bankers did not murder these people. But their drastic actions were a direct result of financiers' reckless behavior on the market. And sadly,
America's newest top lawyer is one of Wall Street's most loyal allies.
The U.S. government's investigation of football's international governing body is focused largely on financial crimes of
racketeering, bribery, money laundering and fraud
, making it all the more hypocritical. In the Justice Department's
official indictment
, nine football officials and five corporate executives from around the world
"are alleged to have systematically paid and agreed to pay well over $150 million in bribes and kickbacks to obtain lucrative media and marketing rights to international soccer tournaments." That sum is chump change to Wall Street.
Big banks' donations to political campaigns, while technically legal, are certainly not done without expectation of reciprocation in the form of loose regulations or a slap on the wrist when the bank has done something meriting a criminal investigation.
In the two election cycles leading up to the 2008 financial crisis, Wall Street donated more than $250 million to the congressional campaigns of Democrats and Republicans. And in the three election cycles that followed, those banks donated more than $230 million to congressional campaigns. That's almost half a billion dollars in legal bribery. The resulting kid-glove treatment of Wall Street banks by the government is an indicator that those legal bribes were successful.
Before Loretta Lynch was attorney general, she was the U.S. attorney for the Eastern District of New York, making her one of the government's top watchdogs over the financial sector.
During her tenure, HSBC was caught laundering $800 million for the notoriously violent and wealthy Sinaloa drug cartel in 2012 yet skated with a $1.9 billion fine — less than 2.8 percent of HSBC's $68.3 billion in revenue for that year.
To put that in perspective, if a person making $40,000 a year was fined the same percentage of income, it would only be $1,113, or about a month's rent. And after Citibank was caught purposefully misleading investors to buy mortgage-backed securities that the bank knew were junk, Lynch's office fined the bank $7 billion ($3.8 billion of which was
billed to U.S. taxpayers
).
What's most ludicrous about Lynch' prosecuting FIFA officials for financial crimes is that she has, for much of her legal career, defended some of Wall Street's worst financial criminals. When she left Harvard, she took a job as a litigation assistant for Cahill Gordon & Reindel (CG&R) — the go-to law firm for New York's financial crooks —
from 1984 to 1990
. CG&R attorneys represented some of the more notorious figures behind the savings and loan scandal of the 1980s and 1990s. The "securities litigation and white-collar criminal defense" section of
CG&R's website
describes the type of clients the firm represents. Headliners include the bankers behind the
$5 trillion-per-day
LIBOR market scandal, which Lynch's office recently slapped with a $6 billion fine, and the ratings agencies that knowingly rated doomed-to-fail mortgage-backed securities as AAA.
Lynch's legal career is emblematic of the revolving door between Washington and Wall Street.
After 11 years of working for the U.S. attorney's office, Lynch took a job at Hogan & Hartson (now known as Hogan Lovells), working alongside
John Roberts
, now the chief justice of the United States. Lynch's first case at Hogan was
defending an Arthur Andersen partner
who got caught cooking the books for Enron. From 2003 to 2005, she served on the board for the New York Federal Reserve, working directly under Tim Geithner, who became famous for
turning a blind eye
to Wall Street's high-risk gambling schemes that led to the 2008 financial crisis. Lynch stayed at Hogan until President Barack Obama appointed her as U.S. attorney for the Eastern District of New York. No wonder Lynch hasn't ever put a banker in jail during her legal career:
They're her former clients.

Should FIFA officials do jail time for their crimes? Of course. But football fans around the world following the FIFA investigation would be wise to hold off on praising Lynch as a paragon of justice even if she convicts them all.
If the FIFA executives accused of financial crimes were Wall Street bankers, they would never have to worry about spending one day inside a prison cell.
C. Robert Gibson is an independent journalist and a co-founder of the anti-austerity group US Uncut.