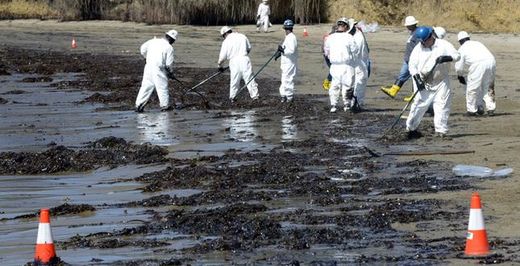 California Gov. Jerry Brown
declared a state of emergency
for Santa Barbara County late Wednesday after
an onshore pipeline burst, spewing thousands of gallons of crude oil into the Pacific Ocean
— blackening beaches and endangering West Coast wildlife. The area, a popular camping spot some 20 miles from Santa Barbara, known for its palm-tree-lined seashore and pristine surf, has been "
closed indefinitely
." The extent of the damage is not known.
A pipeline that carries oil from an onshore facility to refineries ruptured Tuesday, leaking for hours into a culvert under a highway and into a storm drain that led to the ocean near the
Refugio State Beach
. A control room operator noticed "abnormalities" in the line and shut it down, according to the
Los Angeles Times
. Firefighters responded to reports of a gasoline smell.
Texas-based oil company Plains All American Pipeline said up to 105,000 gallons of crude oil may have leaked out — up to 21,000 gallons of which may have spilled into the sea.
"It's important to remember this stretch of California coastline is unique to the world. It's beautiful and pristine," Santa Barbara County Supervisor Doreen Farr said, according to
NBC Los Angeles
. "This is more than an inconvenience.
This is just a disaster.
We are taking it very seriously."
Officials in California have begun cleanup and damage assessment operations after a ruptured pipeline spread some 21,000 gallons of oil onto beaches and into the ocean near Santa Barbara.
It's the same site that saw a massive spill in 1969 when a Union Oil drilling rig
had a blowout
. It was estimated that as much as 4.2 million gallons may have leaked out, causing severe ecological damage that ignited the modern environmental movement — which led to the first Earth Day the following year.
On Wednesday, cleanup crews in protective gear combed beaches for black tar and put down protective booms in the ocean to keep it from spreading.
The coast is home to two endangered birds, the
snowy plover
and the
least tern
, both of which forage for food there. Seals, sea lions and whales also live nearby.
So far, the spill has created
two slicks that span some nine miles
along their habitat.
Some on social media have started sharing photos of the spill using the hashtag
#SantaBarbaraOilSpill
. One journalist posted a picture on Twitter of a
pelican covered in tar
.
On Wednesday, biologists were
counting dead fish
along the shore where students from Santa Barbara City College were
carrying away buckets
of black goo.
The emergency proclamation will free up federal funds to help with cleanup. Brown said in
a statement
it "cuts red tape and helps the state quickly mobilize all available resources." The state is preparing to send out
six boom boats, three 65-foot collection vessels and cleanup crews
, the governor said.
"We will do everything necessary to protect California's coastline," he added.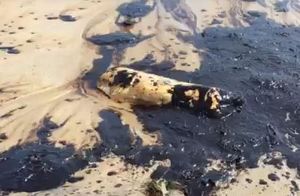 Officials have also closed both Refugio State Beach and El Capitan State Beach to keep Memorial Day vacationers away from the oil-soaked scene. And the state's Department of Fish and Wildlife canceled fishing and shellfish harvesting
.
"It smells like what they use to pave the roads," Fan Yang of Indianapolis
told the Associated Press
. "I'm sad for the birds — if they lose their habitat."
It is not yet clear why the pipeline ruptured, and the extent of its damage is still unknown. It was running at full capacity — a rate of about 2,000 barrels an hour. Plains Pipeline said the pipeline was inspected in 2012 and showed no issues. It was tested again two weeks ago, though those results have not yet been released.
Late Wednesday night, the
Los Angeles Times published a report
saying
Plains Pipeline has racked up more than 175 safety and maintenance violations.
"A
Times
analysis of data from the Pipeline and Hazardous Materials Safety Administration shows Plains' rate of incidents per mile of pipe is
more than three times the national average
," according to the newspaper. "Among more than 1,700 pipeline operators listed in a database maintained by the federal agency,
only four companies reported more infractions than Plains Pipeline
."
"The company's infractions involved pump failure, equipment malfunction, pipeline corrosion and operator error," the newspaper added. "None of the incidents resulted in injuries. According to federal records,
since 2006 the company's incidents caused more than $23 million in property damage and spilled more than 688,000 gallons of hazardous liquid
."
The company did not comment on the
Los Angeles Times
' findings, but it released a statement earlier in the week.
"Plains deeply regrets this release has occurred and is making every effort to limit its environmental impact,"
it said
. "Our focus remains on ensuring the safety of all involved. No injuries have been reported at this time."
Federal regulators have started investigating the incident along with state law enforcement authorities who are looking for possible criminal prosecution or possible civil liability,
according to the Associated Press
.