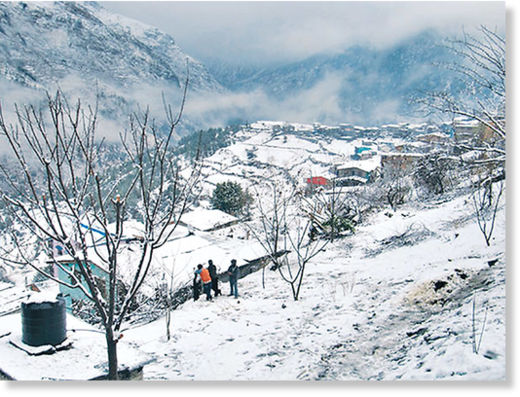 An acute shortage of daily essentials has been felt in the district due to the
halt in transport services for the past three months.
As heavy snowfalls have blocked the roads that connect the remote mountainous district with the rest of the country, businessmen in district headquarters Gamgadhi have
not been able to replenish their stocks and have started running out of daily essentials such as rice, lentils, flour, edible oil, spices, and noodles, among others.
Around two dozen trucks laden with daily essentials and other goods from Surkhet and Nepalgunj have been stranded in Ghucchi, Bulbule, and Dablek due to the blockade
, causing a severe shortage of daily essentials in many parts of the district.
"We have been compelled to turn away customers coming in to buy daily essentials as there is nothing available except for clothing," said Harimun Bhandari, operator of the Harimun store, lamenting that he had to bear a huge loss due to the road blockade.
"Five of my trucks have been stranded due to halt in transport services because of snowfall and my store has run out of essential commodities. But even though the problem has been escalating, the authorities concerned have not taken any initiative to re-open the roads," complained Rabi Rawat of Rabindra Trades and Suppliers. While the only airport serving the district had been shut down for three months for blacktopping of its tarmac, the shortage of daily essentials was mostly brought about by heavy snowfalls crippling transport services in the district at about the same time.
Meanwhile, people reaching the district headquarters from far-flung villages along with their mules have started lining up outside Nepal Food Corporation's depot for rice after being unable to find any in the market.
Similarly, the halt in transport services in the district have also affected various government and non-government projects as essential equipments and other goods have been stranded en-route. While District Agriculture Office said that the seeds meant to be distributed among the farmers in the district have not reached the village, text book distributor Nupendra Malla said that books and other educational materials have also been stuck in Ghucchi, Bulbule and Dablek owing to the halt in transport services.
"We have been trying our best to remove the blockade and resume transport services by working in close coordination with the Division Road Office, Jumla and other government authorities," said Chief District Officer Shambhu Prasad Regmi.