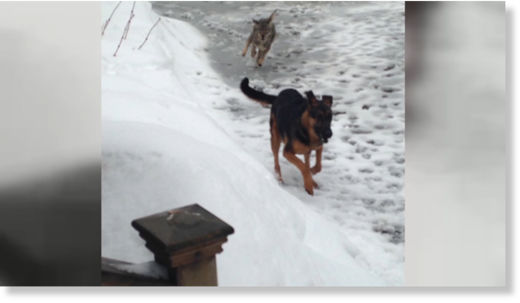 Coyotes were attacking in Connecticut this week, with three reports of the animals hunting down dogs.
Luckily, all the dogs survived. But as CBS2's Jessica Schneider reported, animal control officials said there is a big reason some big dogs are becoming prey.
At least one coyote has been making the rounds in suburban Stamford - looming dangerously close to homes and setting its sights on several family dogs.
"There was something following (my dog); chasing her," said Stamford resident Karen Hart.
Hart snapped a photo of her 2-year-old shepherd mix, named Kylie, running for her life.

"She got into the house and I slammed the door just as the coyote was approaching the front door," Hart said.
There were four attacks in a period of one week.
All the dogs got away with minor cuts and scratches. But several owners have decided to keep their pets inside, alarmed at the coyotes' brazen tactics.

"This is very odd, because three of the dogs — a shepherd mix, a golden retriever and a German short-haired pointer - all obviously much larger than this coyote,"
said Stamford police Capt. Richard Conklin.
Police said coyote attacks are so prevalent this winter because of the extremely harsh weather conditions - so much so that coyotes have even started living under people's decks.
"This one was right under me with my deck, and when animal control came out here, they said that he was making a home," said Judy Klym.

Klym heard the yelps of her dog under attack and jumped in to help.
"I ran out there, and made enough noise to have them break and grabbed Bricksy and brought him inside," Klym said.
With the attacks this week, police have been warning pet owners to keep an eye on their dogs. They have also warned homeowners to be aware of what might be building a den just feet away.