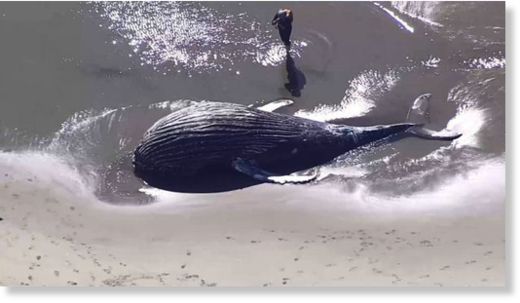 A dead humpback has whale washed ashore on a Monterey beach close to where a second whale was seen swimming near the shore.
The whale turned up Friday morning at Sunset State Beach after being seen floating offshore Thursday night.
A marine biologist said it was a young whale about 45 feet long. It had no apparent signs of trauma on the carcass and was in the beginning stages of decomposition.
Biologists say it's not uncommon to see a humpback wash ashore. "It kind of comes in waves. Last year we had one humpback whale. Few years before that we didn't have any, one year we had two or three," said Robin Duncan, UC Santa Cruz Long Marine Lab operations manager.
An adult humpback whale was also spotted swimming near the shore in the same area. It was not known whether there is a relation to the dead whale.
The cause of death won't be known until results of a necropsy are available, likely in a couple of days.
Monterey Bay has often been a feeding area for humpback whales almost year round. This time of year is the start of spring migration for humpback whales as they head north from tropical breeding waters.