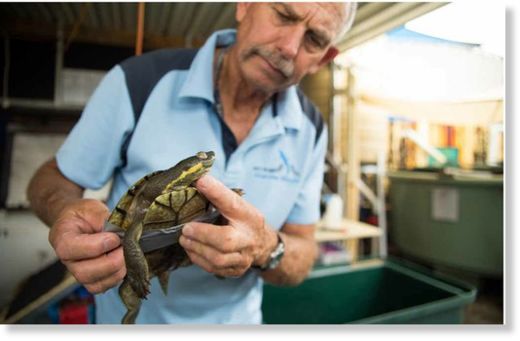 An Environment Protection Authority (EPA) investigation into a large freshwater turtle kill in the Bellinger River, has given the wayterway a clean bill of health.
As many as 100 Georges Turtles have been found dead or dying in recent days from a mystery illness.
Investigation are underway to determine what is killing them.
The EPA took water samples from multiple points along the river, while vets from the Office of Environment and Heritage are examining the reptiles.
The water tests have not found any pesticides or hydrocarbons.

An EPA spokeswoman said the testing was thorough, and backs up the initial theory it was not a toxic spill that coused the turtle kill.
"EPA officers took the samples from four key locations along the river including at Myers Bluff and Thora Bridge," she said.
"The first round of results has confirmed that there are no traces of pesticide or hydrocarbon in the samples.
"These results support the initial observations that the turtle deaths are not related to a pollution incident."
Further results, including those from veterinary testing on the turtles, are likely to be delivered early next week.
Scientist trying to save the rare freshwater turtles fear the death of 100 could push the species to the brink of extinction.
Marine vet Duan March has been looking after the affected reptiles, and said most are not surviving.
"As of yesterday afternoon we had ten still left alive," he said.
"The Georges Turtle, that's where they live and this is going to be a significant impact on that population.
"Population estimates vary depending on studies, but up to 400 individuals have been identified in that stretch of river.
"So a loss of 100 is significant."