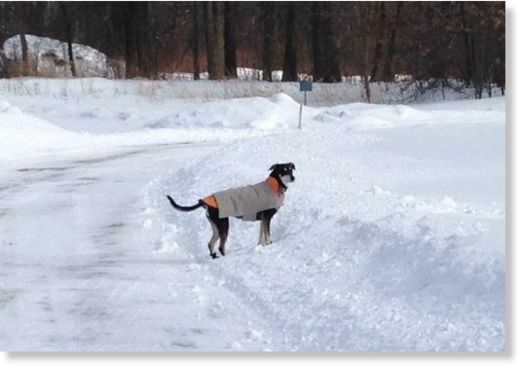 A Cleveland Heights dog is recovering from being attacked Sunday by two cold and hungry coyotes at Lake View Cemetery.
Yes, a cemetery island of grass and trees amid the busy streets at the intersection of Cleveland, Cleveland Heights and East Cleveland was the scene of a coyote encounter and more proof that Ohio's coyote population is rebounding.
Maitri, a 70-pound greyhound-mix, was lucky she had speed on her side. She escaped with a gaping flesh wound to a hind leg that required six stitches.
Ohio's dog owners need to beware that, in any setting, a dog running loose can be fair game,
especially in the winter when predators are struggling to find common prey, like rodents.
Maitri's owner, Beverly Singh, a Cleveland Heights business owner who takes her dog to work with her, gives this account of the encounter:
"Maitri, being part greyhound, is used to lots of exercise and long walks. I took her to the cemetery around 1 p.m. because the sidewalks were so impassable, while the back roads at the cemetery were plowed.
"I let her off leash to run, though I know dogs aren't supposed to be off leash. I had both of my knees replaced within the last two years, and I'm nervous on the ice and snow.
"She ran up a path amongst some trees and out of sight. When I called her, she didn't come at first, so I called with more force. As she came running back around the curve in the path, I thought there was another dog with her, but as she came closer, I saw it was two coyotes on her tail. They broke off the chase about 40 feet from me, and when she got to me, I saw a big wound on her hind leg. We quickly walked back to the car and I took her to the emergency veterinary hospital, where she had to have anesthesia to close the wound."
Lake View Cemetery president Kathy Goss said, "There is a decent population of coyotes in the neighborhood, and, of course, some will visit the cemetery's 285 acres of land and nine miles of winding roads."
Those less-traveled roads also attract dog walkers, "a regular group of them who obey the rules and keep their dogs on a leash, don't walk them on the graves and pick up after them," Goss said.
"This is the first coyote encounter we have heard of,
but it wouldn't be wise to let a dog run loose in any park, especially in this extremely cold weather."
Singh said she heard about a couple of dogs getting attacked by coyotes in nearby Forest Hills Park
, but "I thought we were safer at Lake View, so near the roads."
Singh agrees with Maitri's veterinarian, who examined the healing wound Wednesday.
"The vet said Maitri was very lucky," Singh said.
Source: The Plain Dealer