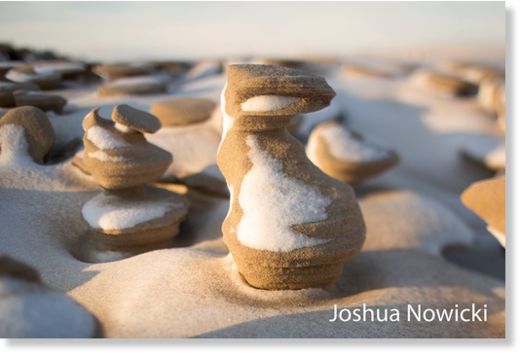 A pair of Michigan photographers captured photos and video of intricate sand structures created by the wind eroding frozen sand at a beach.
Joshua Nowicki, 35, said he spotted the 12-inch-tall structures on Silver Beach in St. Joseph on Valentine's Day and decided to photograph the "sand towers" to make up for missing an opportunity to capture images of similar structures he discovered on a beach about three years ago.
Nowicki captured several images and a short video showing off the structures.
"They were created by wind eroding the frozen sand," he told
WILX-TV.
A longer video showing a tour of the sand towers was shot by another local photographer, Seth Haley. Haley's video shows the structures slowly melting away as the temperatures rose in the days following Valentine's Day.
David Barnes, professor of geosciences at Western Michigan University, told Mlive.com the formations are called "hoodoos" and are "erosional remnants, frozen water-saturated beach sand areas left after thawed beach sand has been blown away by the wind."
"You can see the bedding layers in the mini-hodoos," Barnes said.