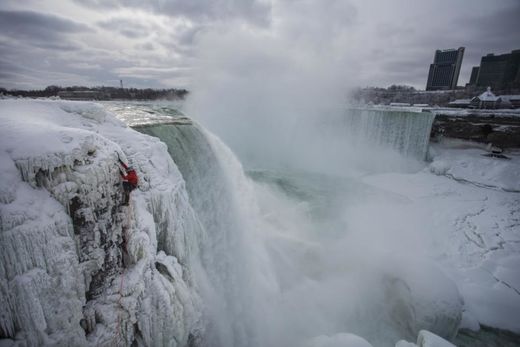 It may have felt too cold on Friday in much of the East to even think of walking outside. But since drones don't feel cold, why not fly one over a mostly frozen Niagara Falls? That's exactly what Canadian videographer Brent Foster did on Friday.
The results were spectacular. Raise your cup of hot chocolate (or iced tea, if you're out West) to Foster, who told Slate's Eric Holthaus about stepping into the frozen icescape to guide his drone and film the video.

Comment: The original video is no longer available, but the video below shows stunning views of the frozen landscape:


"It was a very cold shoot, but we were very careful to keep flight times to a minimum and to keep my hands as warm as possible to maintain full control and stay safe during the flight."
Foster apparently escaped without getting frostbite or crashing his drone and came away with video that almost makes the frigid air enveloping the region worth it.
Ice on the falls isn't abnormal. Ice bridges fit for walking can form below the falls. Until 1912, intrepid adventurers could stroll out and see the falls from a view normally reserved for the birds and the Maid of the Mist in the summer. But an ice bridge collapse that year killed tourists and put an end to the practice.
This year's ice comes courtesy of sub-zero temperatures and wind chills in the Niagara region, but Arctic air has covered a huge area from Canada all the way down to Missouri. Freezing temperatures even made an appearance in southern Florida.
The eastern half of North America was the most anomalously cold place on the planet on Friday. A slight warm-up is expected on Sunday before Arctic air again plunges into the region.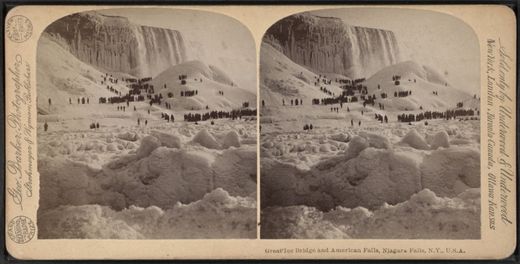 You could make the most of the cold weather like Foster and go shoot some video. Or warm yourself with the thought that January was the globe's second warmest on record. Or just go all in and apply to the Antarctic post office, which is hiring.
See more of the frozen falls via the Twitterverse, below.