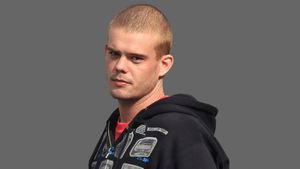 Joran van der Sloot, the 27-year-old Dutchman who is the prime suspect in the 2005 disappearance of U.S. teen Natalee Holloway, has been stabbed and may be in critical condition, according to a Dutch website.
In an interview
with a Dutch news outlet,
van der Sloot's lawyer, Máximo Altez, said the convicted killer was stabbed in the shoulder and waist by fellow prisoners.
Van der Sloot is currently serving a 28-year sentence for killing a Peruvian business student, Stephany Flores, in 2010.
Van der Sloot was recently transferred to the Challapalca Penitentiary located in the Andean department of Puno, known for its harsh conditions - it sits at more than 12,500 feet, where temperatures range between minus 4 to 48 degrees Fahrenheit.
Van der Sloot, who married his Peruvian girlfriend Leidy Figueroa in a prison ceremony in July, became a father of a baby girl in September.
In the past few weeks, his 24-year-old wife has been repeatedly claiming van der Sloot is being abused in the new prison.
In a report issued Sunday night on the Peruvian TV show
Cuarto Poder
,
Figueroa said he and other inmates
are made ​​to perform exercises in the middle of the night and are routinely beaten on the knees and testicles for no reason.
"They make them walk on stools, they have no electricity, they are locked 24 hours. In his ward there are people with tuberculosis, others will suffer from bleeding and infection, and nobody does anything," she said.
However, also on Sunday, the head of the Peruvian system of prisons (INPE), José Luis Pérez Guadalupe, denied any wrongdoing and called the wife a "compulsive liar."
"Absolutely nothing has happened. That lady is lying and it is not the first time she does it. She has been giving false reports to the media for weeks now: that he has been beaten, tortured, that they submerge him in water. We are facing a compulsive liar. Unfortunately she is wasting all of our time," Pérez Guadalupe told Canal N.
The son of a judge who was serving in Aruba, van der Sloot was the last person seen with 18-year-old Natalee Holloway, who vanished while on a graduation trip to the Caribbean island.
Van der Sloot remains the chief suspect.
Once his sentence ends, he is to be extradited to the United States to face trial on charges he extorted and defrauded Holloway's mother shortly before traveling to Peru in 2010.
He allegedly took $25,000 from the mother, promising to lead her to Holloway's body.