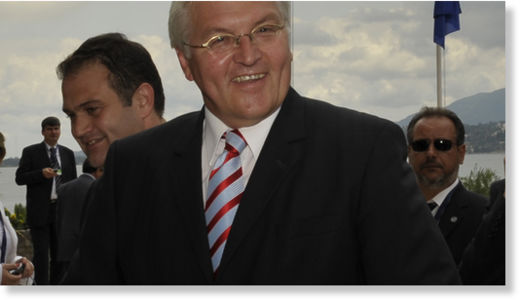 Frank-Walter Steinmeier's plane, the German foreign affairs minister,
reportedly disappeared for several hours from radar screens on Saturday as he was travelling in Asia, sending diplomats and government officials scrambling in alarm.
The minister was on his way from Seoul, South Korea, to Jakarta, Indonesia, when the incident happened, die Bild-Zeitung reported.
The airbus A 340, "Theodor Heuss", took off from Seoul at 3pm on Saturday and was due to land in Jakarta, the next stop in his Asian trip, after seven hours. Steinmeier was accompanied by actress Natalia Wörner, who was preparing for her role in the German TV series, "The Diplomat".
The weather was fine until Borneo Island, where the airbus met a storm front and the pilot reportedly decided to change course.
Air traffic control in Jakarta was apparently ignorant of this maneuver and informed the German embassy the airbus was on its way back to Berlin.
Their radar couldn't locate the plane.
The German embassy tried to contact government offices in Berlin, but no one was able to give any answer about the minister's current whereabouts.
Contact with the airbus was also impossible due to the thunderstorm.
Only 40 minutes before the plane landed in Jakarta, the airbus reappeared on radar and the Indonesians informed the German embassy.
It's still not clear why Indonesian air traffic control thought Steinmeier was going to Berlin.
This isn't the first time Steinmeier has had travel problems recently. In August, he had to use Lubomir Zaoralek's plane, his Czech opposite number. In March and April, he also had to revise his schedule because of technical problems with transport.