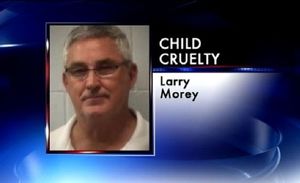 A school administrator in Georgia has been charged with child cruelty after a mother alleged he beat her 9-year-old son with a leather belt.
And now,
new reports have surfaced that the incident may not have been an isolated case.
Larry Morey, an administrator at ABC Montessori's Ace Academy in McDonough, Georgia, was arrested and booked into the Henry County jail Wednesday after a parent filed a complaint that her son came home from the school with marks on his body.
Gentry Foster is described in a
KFOR
story about the incident as a "special needs" student. His mother, Lori Cameron, said she believes the school went too far in disciplining her son.
"They lifted him, from what I understand, about 18 inches off the ground and beat him with a leather belt," she said. "I inspected my son and he's covered in bruises and welts."
"I was screaming for help. I was lifting up my legs to try to block my butt," Gentry told a reporter.
"I was angry. I just couldn't wrap my mind around it," Cameron said.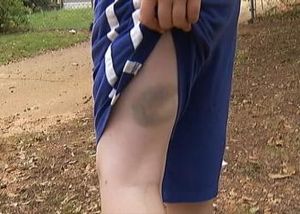 WSB
reports Morey was released from jail Thursday evening but the charges against him are still pending.
His attorney, Gil Maxwell, said he intends to prove the alleged beating was all a misunderstanding.
Maxwell said that Cameron gave the school permission to use corporal punishment on Gentry.
"She specifically indicated she expected some kind of fairly significant physical contact to occur," Maxwell said.
Morey reportedly showed a document, signed by Cameron, authorizing that punishment, to police the day he was arrested.
"However, in this particular case, detectives believed it was excessive given the marks and bruising on the child,"
said Sgt. William Powell of the Henry County Police Department.
In addition, the
document does not indicate that Cameron agreed to administrators using a belt on her child
, and Cameron claims she only authorized administrators to spank her son on one occasion, but not with a belt.
Since the story broke
another parent has come forward, saying a similar incident occurred with her son two years ago
.
Marie Lamar told WSB she reported Morey to the police in 2012.
Lamar said Morey grabbed her son, Brandon, who was 15 years old at the time, and
put him in a choke hold.
"He pushed me up against the freezer, had his arm around my neck, saying, 'You (are) face-to-face to me,'" Brandon Lamar said in a recent interview.
Since Lamar came forward, WSB has uncovered three other reports made to the Henry County police accusing Morey of using physical violence.
No indication is given as to what came of those reports.
It has not yet been reported when Morey will first appear in court for the current charges.