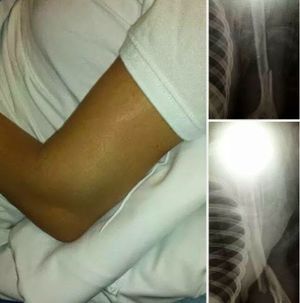 Less than a year after one of its police officers was arrested and charged with having unprotected sex with several women, knowing that he was HIV positive, the Green Acres, Florida Police Department is back in the spotlight.
In an exclusive story which I am breaking here on my blog, a young girl's father vows to seek justice for his daughter, after a Green Acres Police officer broke her arm.
The incident took place on Tuesday October 21, 2014 inside John I. Leonard High School.
That's where 15-year old Daniella Galindo was talking on her cell phone with her mom when Green Acres Police officer Jared Nash walked up to the teen, and asked her who she was talking to.
When Daniella replied that she was speaking with her mom, officer Nash demanded that she give him her phone.
When the teen refused, officer Nash grabbed the 4′ 11″, 90 pound young girl,
slammed her against the wall, and twisted her arm, breaking it in two places
.
Then,
to add insult to injury
, in the literal sense, as the young girl cried in pain with her arm broken,
officer Nash pulled Daniella's arms back behind her back and handcuffed her.
Galindo says that it was then that a school sentry named Perez told officer Nash to remove the handcuffs.
"I want him fired," Jeremy Galindo, Daniella's father told me in a phone interview Sunday night.
"They (police) are saying that the officer's
excessive force was justified because they say my daughter pulled away from him
," Galindo said, adding, "So one of your officers breaks a minor's arm and you don't investigate?"
According to Jeremy Galindo, his daughter's assault by officer Jared Nash was caught on the school's video surveillance system, but school officials are refusing to release the video.
"They (school) have
already admitted that there is a video
, so they can't go back now and say that there isn't."
Galindo also told me that John I. Leonard High School officials never even told him what hospital his daughter had been taken to.
A police officer assaulting a child inside a school, a place that's supposed to represent a safe zone and a safe haven for children, is disturbing enough, but it's what Daniella's father told me during our phone interview which makes officer Jared Nash's rogue behavior and assault of an innocent child even more disgusting.
According to Jeremy Galindo, just a few days before officer Nash broke his daughter's arm, his daughter Daniella was chased by several girls after school, who wanted to jump her.
Galindo told me that as his daughter was running, she fainted, and a passerby came to her aid.
It was that same passerby who prevented her from being assaulted by the group of girls.
Galindo says he called Green Acres Police and filed a police report to document the incident, and that according to a Green Acres Police Sergeant, officer Nash went to the school because police believed that Daniella had a video on her phone of a fight that had occurred at the school days earlier.
But Galindo says it's ironic that officer Nash assaulted his daughter, and as a result, victimized the young girl, who just days earlier was bullied.
"My daughter was a victim," Galindo said.
"We initiated a police report, and they (police) ended up causing more harm than anyone."