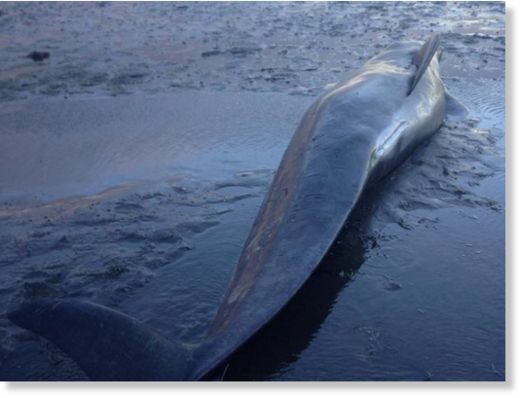 A long-finned pilot whale has died after becoming stranded on mud flats near an Easter Ross beach.
More than 100 locals gathered round the stricken mammal as it was pulled 55 yards inshore and lifted by a crane onto a truck at Tain Links.
The 14ft long young male cetacean is thought to have become stuck after becoming separated from its pod in deeper waters.
A local vet went to the scene on behalf of the British Divers Marine Life Rescue at about 2pm on Saturday after a member of public raised the alarm.
But as the tide went out, the whale was left in shallow water and died at about 4pm.
Workers from G Bannerman in Tain arrived with a small crane at about 6pm to remove the whale, and local farmers helped them strap it up and drag it inshore to the beach.
It was then lifted by the crane on to a truck and taken away to be stored overnight at a local farm.
Kirsty MacDonald, from the British Divers Marine Life Rescue, said: "It was in shallow water for a long time and it was about 4pm when it died.
"We managed to get it uplifted because it was dead. Bannermans were there from 6pm and they had a couple of local farmers who helped attach straps and they had to drag it about 55 yards into the beach.
"There were cars parked in the nearby car park and about 100 folk standing around at the time.
"These types of whales are common around these waters and common in deep water. They are the most commonly stranded species so it is important that members of the public try to keep an eye out for them.
"Last year we had three pilot whales stranded at Portmahomack and another one stranded up in Dornoch."
The Scottish Marine Animal Stranding Scheme (SMASS) will carry out an autopsy on the mammal today.
The Scottish SPCA was also at the scene on Saturday.
Long-finned pilot whales can grow to about 20ft long and adult females can weigh up to 1.5 tonnes and live for 60 years.
They feed predominantly on squid and live in groups of about 10-30, although some are as big as 100.
Source: The Press and Journal