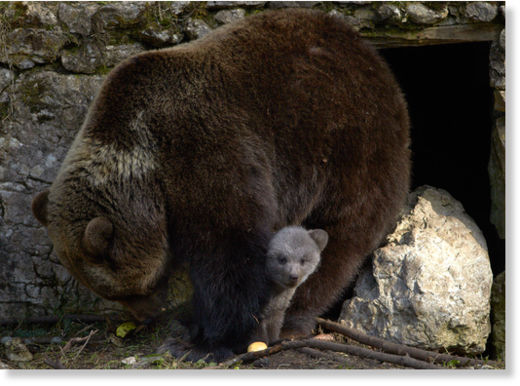 Swedish hunters authorised to destroy female bear and its three cubs after attack on 80-year-old man.
A bear and its cubs were put down
after nearly killing an 80-year-old pensioner in northern Sweden.
Hunters were authorised to slaughter the female bear after it pounced on the elderly man while he was fishing by a lake in Homnabo.
The man, who has not been named, attempted to escape when he spotted the bear, but it quickly caught up with him and threw him to the ground.
The victim wrestled with the bear but managed to escape after being bitten on his shoulder and ear. He was later taken to a local hospital in Gävle.
Eyewitness Nils Hansson told the Swedish
Helahälsingland
newspaper: "He was completely calm and told me what had happened. When I asked him if he was shaky he replied simply: 'I'm a man of the woods and not afraid of things like this'."
The bear involved in the attack was destroyed, along with its three cubs, after being found on Saturday.
Local officer Ulf Sundgren, of Gävleborg police, said the slaughter was justified because of the attack.
"She has shown that she is a danger to the public because she has attacked a man and bitten him severely," he told the TT news agency.
Sundgren added that the cubs could not have been placed in a zoo instead of being destroyed because "they can't be captured and cubs without mothers are always put down".
Hundreds of brown bears are killed in Sweden every year as part of an annual cull. Last year, approximately 300 bears were professionally hunted between August and October.
According to the Swedish Environmental Protection Agency, the hunt is for bear skin and meat, and also to keep the bear population at around 3,000. The authority said a large bear population increases the risk to reindeer and sheep, particularly in the northern part of Sweden.
Bear attacks on humans are relatively rare in Sweden.
There have only been two fatalities caused by bear attacks over the last 30-40 years, according to the Swedish protection agency.