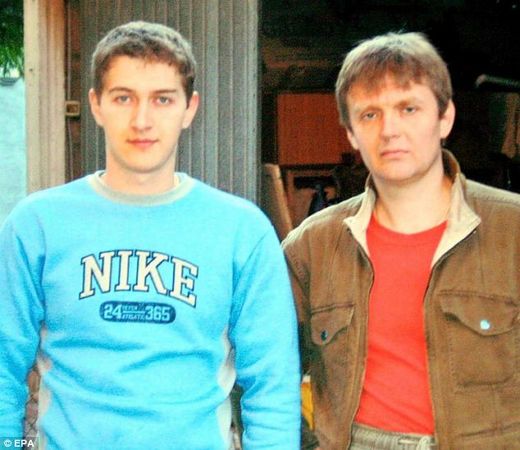 The widow of murdered Russian spy Alexander Litvinenko has described as 'lies' extraordinary new claims by his brother that the assassination was the work not of Russian agents but British intelligence.
Alexander Litvinenko died of radiation poisoning in 2006 three weeks after ingesting polonium in a London hotel. His death triggered an international murder investigation implicating Russian president Vladimir Putin and naming two former KGB officers.
The murder is to be the subject of a public inquiry, announced by Theresa May earlier this week.
But in an intervention which has outraged the Litvinenko family,
the spy's younger brother, Maxim, claims British agents were responsible
.
His allegations are a dramatic U-turn from his original reaction, when he blamed Putin's Russia.
Last night, Litvinenko's widow Marina rejected them out of hand, accusing her brother-in-law of spreading lies that she said echoed the views of the Russian state.
In the days after his brother's death Maxim told the world he believed he had died by the orders of the Russian state, saying: 'My brother was one of Putin's most dangerous enemies.'
However, two years ago he was
approached by the Russian general prosecutor's office who convinced him that Russia was not to blame
.
Today Maxim, 32, the half-brother of Alexander and a chef by trade who was left almost penniless when his restaurant business collapsed, is now working for a company which helps wealthy Russians invest in the tax haven of San Marino.
And as his business fortunes have changed so has his story.
He told
The Mail
on Sunday yesterday in the Italian city of Rimini where he now lives:
'It could have been the English, the Israelis, the Americans. Why would British secret services want my brother dead?

To build public opinion against Putin

.'
He claims MI6, who had worked with Litvinenko after he defected to the West, had uncovered his brother's plans to return to Russia.
His brother 'knew all sorts of things' about Russian dissidents granted asylum in the UK -
'things that would make the British and Americans uncomfortable if he returned'.
He denies receiving any financial support or favours from the Russian state, adding: 'In 2012 I was called by the Russian prosecutor. They suggested
the polonium could have been left by anyone, it could have been planted in the urine, the real poison could be thallium and the letter [written by Litvinenko before he died accusing Putin of his murder] could be fake.'
He added Russia had no reason to want his brother dead: 'He didn't do spying.
He did not know any state secrets.
He had a simple job. The state were not interested in him.'
Maxim claims his brother wanted to return to Russia and his marriage to Marina was under strain. Mrs Litvinenko vehemently denies this.
She added: 'Why has he changed his mind? He was not here, he was not part of our life in London. I am really sad he is saying this. Almost 80 per cent of what he is saying is lies.'

Comment: How would being "part of our life in London" have any bearing on the identity of the killers? We doubt Mrs. Litvinenko has any more evidence than anyone else outside of intelligence circles.


In 2008, Maxim and his father Walter borrowed money from Marina and the Russian tycoon Boris Berezovsky to set up a restaurant in Rimini. A few months later the business collapsed and the family were pleading poverty.
Andrei Lugovoi, a former KGB bodyguard, and Dmitri Kovtun have been identified as prime suspects in the killing. Both deny involvement and remain in Russia.
Walter has also made an extraordinary U-turn. On Russian state TV he withdrew his claims his son was killed on Putin's orders - and branded him a traitor who may have deserved to die.
Alexander Goldfarb, co - author of a book about the murder and a friend of Alexander Litvinenko, said after the family restaurant closed Maxim and Walter 'were in a very dire financial situation and thought nobody would take care of them'.
The Crown Prosecution Service said nothing had changed from its assessment of the case.