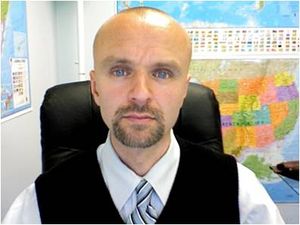 An early freeze in the Great Plains may cut corn production by 8%, according to Simon Atkins, CEO of Advanced Forecasting Corporation, who presented his long-range forecast in a webinar on Monday.
The cause: above-average volcanic eruptions around the world for the last nine months, including three in the last month - in Eastern Russia, Alaska and Indonesia. The release of sulfur into the atmosphere from volcanic eruptions reflects sunlight back out to space.
The meteorologist predicted cooler-than-normal summer temperatures "because of well-above-normal volcanic eruptions going back to the fall of 2013. We are not going to see many hot periods. Sure, there will be a few days here and there where temperatures reach 100 degrees in Oklahoma, but it's not going to be very common."
"What's going to be more common is more moisture coming in off the Eastern seaboard of the U.S., and it will be pushing frontal boundaries from east to west, cooling down even parts of the Midwest in July and August," he continued. "We think the first two weeks of September will be warmer. But then it will be getting quite a bit colder toward the end of September, and even into October."
These cooler temperatures could damage the corn crop, Atkins explained.
"We think there's going to be an early frost [in the Plains west of Kansas], which could reduce the number of bushels per acre of corn - maybe by around 8%, our current rate of prediction," he said. "It will be a killing freeze, at least 10 to 15 days earlier than normal."
Meanwhile, Atkins expects flash flooding in the Midwest this week, from Nebraska down to Arkansas, even reaching into parts of the Tennessee River Valley. "Some of these winds will reach 80 miles per hour with hail, producing lots of flash flooding. Some fields in the Midwest will suffer from too much rain," he said.
The good news in Atkins' forecast is that strong rains during the last month have ended drought conditions in the Great Plains. Although temperatures in the Plains are normal now, Atkins expects temperatures to rise starting as early as this weekend. "It's going back to being hot again until the mid to latter half of July, when it will get rainy again," he said.
Atkins, who offers a
subscription forecasting service in conjunction with Brock Associates
, predicts drier-than-normal conditions in July in the Upper Midwest from Illinois all the way out to Wyoming. "But it won't be a disaster because of cooler-than-normal conditions," he added. The situation will return to normal when more moisture arrives in September and October.
Atkins had some good news for growers in Texas, where he forecasts above-average precipitation from July through October. "We see more and more moisture coming up from Texas," he said. "This will not allow too much drought to occur on much of the Plains this summer."