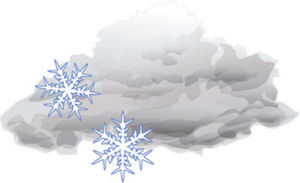 Did you think summer was here? Snow could fall in Elko County early this week at elevations above 7,000 feet, according to a National Weather Service advisory.
"In what will seem more like spring than almost summer, a strong weather-maker will bring enough cold air and moisture to higher terrain starting late Monday to produce snow showers over parts of northern Nevada," the notice stated.
Most valleys will not see any snowflakes, but northern Elko County - especially the Jarbidge Wilderness and other mountains east of Mountain City Highway - could get a couple inches of accumulation between late Monday and Wednesday.
The Ruby Mountains and East Humboldts also could receive a couple inches of snow.
"Spotty flakes or flurries may fall on some locations, such as Adobe Summit or HD Summit," the advisory said. "Don't be surprised to see flakes in the Lamoille area."
Anyone spending time in the mountains this week should prepare for cold weather.
"And ... welcome to summer in Northern Nevada," the weather service advisory concluded.