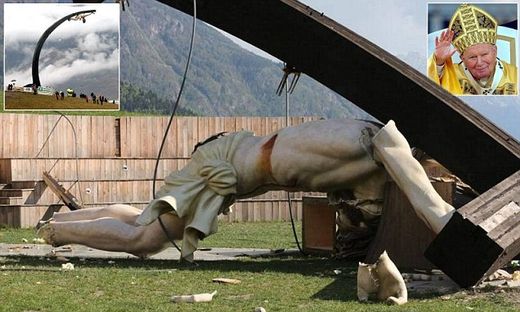 * Marco Gusmini was killed when the sculpture fell in Cevo, northern Italy
* The 21-year-old tourist had been visiting the Alpine village on a church trip
* 100ft high wooden cross was built in honour of John Paul II in 1998
* It fell suddenly during a ceremony in lead up to his canonization on Sunday
A 21-year-old tourist has died after being crushed to death by a 100ft crucifix built in honour of John Paul II after it collapsed during a ceremony in the lead up to his canonization.
The 100ft high wooden cross, supporting a 90 stone statue of Jesus, created when John Paul II visited the area in 1998, fell suddenly following a few crunches.
Marco Gusmini, who was on a church trip to the Alpine village, was unable to get out of the way in time and was killed instantly, Italian media reported.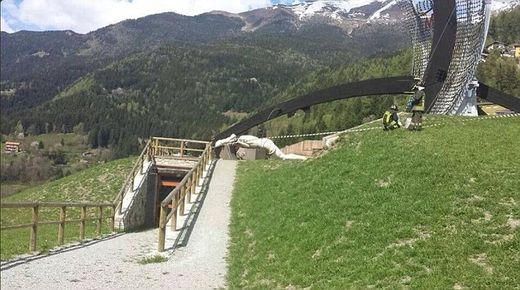 The victim was disabled, according to the newspaper Il Messaggero.
He had been visiting the area with a church group from his home town of Bergamo, where - ironically - he lived on a street named after Pope John XXIII, according to the Italian newspaper Corriere della Sera.
The tragedy will inevitably be seen as an ill omen for Sunday's celebration when John Paul II is to be declared a saint, along with Italian pope John XXIII.
The curved cross was fixed to the ground with cables intended to represent the scars of the Second World War.
The six metres high statue was originally erected in Brescia near Milan for John Paul's visit then moved to the village of Cevo in 2005.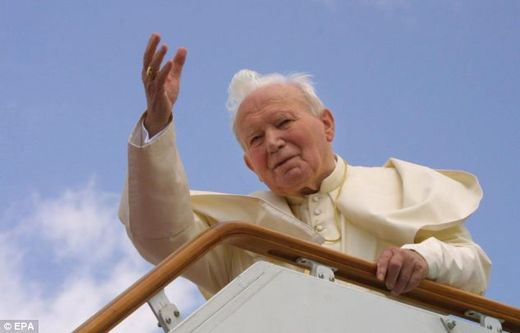 The Mayor of Cevo, Silvio Citroni, said it was 'an unexplainable tragedy'.
He said: 'The young people were making a snack for lunch and when they heard the crunching noises coming from the cross they fled in all directions.
'Unfortunately Marco ran in the wrong direction. This is a place for pilgrimages and family visits. We never imagined that something like this could happen. '
He said the cross was monitored and had had maintenance work done last summer.